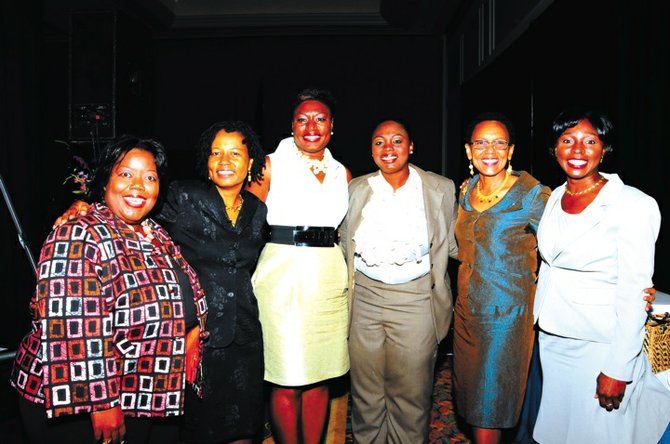 By ALESHA CADET
Tribune Features Reporter
A LOCAL group is on a mission to better the Bahamian society. To achieve this goal, the group has committed itself to the empowerment of women.
For the second time around, Oyster Publications Bahamas Limited will stage its annual Women's Empowerment Summit. With platinum sponsor Royal Bank of Canada (Bahamas) on board this year, the organisers claim the event will be bigger and better.
Expecting to attract women across the Bahamas, the Caribbean region and the United States, summit director and Oyster Publications chief executive officer Portia Harrigan said people can expect a lot more interactive sessions. Some of them for professional development and some of them for personal development.
Some five years ago, when Ms Harrigan lived in the British Virgin Islands (BVI), she conceived the idea, and launched the event with the intention of bringing a global perspective to the way women function in the Caribbean region. Returning to her native roots in 2010, the entrepreneur said she decided to launch the event in the Bahamas, where women were equally deserving of such an experience.
"Being new and returning home, people may see you as an outsider and it may be longer for them to warm up to you, but that's normal I guess. If people don't know you, it's difficult for them to determine how they want to support you, but I'm not inclined to give up so easy or so readily. This is something I have been doing since 2007, so to just give up, I don't think it would be fair to the journey," said Ms Harrigan.
Based on feedback from patrons at the first summit, Ms Harrigan said the event has now been extended to a two day experience, from October 18 and 19.
"Some people were saying the sessions weren't long enough, that they didn't have time. People also indicated that there were some other things that they would have liked to learn about. For instance, we are doing two sessions on leadership and that's going to be community leadership, as well as leadership on the job," said Ms Harrigan.
The theme of the event is "Bridging the Gap". Ms Harrigan said this year she wants to bring women together who have achieved much in the earlier years, for example, in the 60s and 70s era.
"We want to learn about their stories. And also we want to bring some of our Caribbean sisters and our sisters from the Americas and Canada, to talk about common issues. That is primarily how we came up with the theme. We want to know about relationships between the older Vs the younger women, as we ourselves are looking for guidance on how we approach the present and the future," said Ms Harrigan.
She said an important factor in the purpose of the summit is the unity of women. There is a lot more that women can do and there is a lot more success they can realize, by coming together as a group," she said.
The event hopes to inspire women to "harness their God given power to become controllers of their own destiny and to enable them to realize their true worth".
While Ms Harrigan said the organisation is still confirming speakers for the event, women can look forward to the event and listen out over the next several months for more announcements.