By JEFFARAH GIBSON
Tribune Features Writer
SOME people invest a great deal of time and money educating themselves about special interest fields, but do not think the same can be applied to marriage.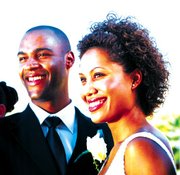 For most couples, everything they learn about marriage is by observing close relationships such as their parents, family friends or other close relatives. Based on what is perceived, some people come to a conclusion of what is expected in this type of relationship.
These expectations sometimes lead lovers astray. In other instances, they prove invaluable.
Miriam, a married woman of five years, learned through observation that forgiveness is an important part of marriage. She also said that couples are unique and that there is no "one size fits all" when it comes to relationship management.
"To me marriage is like a live and learn thing. It is good when you see people having longevity in their marriage but everyone's situation is different. What might work for someone else might not work for me. As human beings we are already unique and marriage brings two unique people together. As a married person you strive to make a unique life for yourself," she said.
Paying careful attention to other relationships can sometimes influence a person's view on what they can expect during their union.
"Many people are afraid or reluctant because they have observed the failure of so many close marriages, such as their parents', and they do not want to mess up so they prefer to remain unmarried, or they try to find unfortunate ways such as cohabitation to try to 'test-drive' it. But unlike a car, it gives a false picture of what marriage will be like. A good marriage just does not happen. It is a relationship that has to be protected and nurtured," said Marissa Wallace organiser of "The Art of Marriage".
Mrs Wallace said there needs to be more training, such as workshop and conferences to teach young men and women how to approach marriage.
"So many people have no idea what marriage is about. They go into marriage based on what they saw on television, thinking it will be happily ever after. I think one of the problems we have is that we are falling down in the church. The bible said older women should teach younger women how to be good wives and older men need to train young men how to be good husbands. But definitely more should me done to train individuals about marriage," she said.
Yvonne Miller, another happily married women said couples can be equipped for their long-term union by learning from experience and participating in training.
"There is no set formula about marriage. Everything about marriage cannot be fused into a book, conference, or a workshop. However, these things can be very helpful because they give you tips about common problem such as communication, and how to resolve conflicts. It would not hurt if both partners go to conferences and workshops as long as they both are interested. The two persons must see the value in the activity and want to gain something from it. If one partner is not particularly interested then that defeats the purpose," said
Mrs Wallace said that couples should educate themselves before getting married and continue to do so years after their nuptials.
"For marriage to go the distance as God designed it to be, couples need to have that same diligence, determination and commitment. Marriage takes hard work. Adequate preparation, such as detailed Christian counseling, needs to be made in advance. Then after the wedding, maintenance strategies need to be incorporated right away," she said.
Mrs Wallace said husbands and wives can listen to marriage radio programs together, read books, date, attend conferences, receive counseling when necessary, and go on get-a-ways together.
Estelle Laroda has been married for eight years. She told Tribune Woman that the relationship between two people deserves adequate attention like everything else.
"Some people put more time and effort into other things other than the things that are necessary. My husband and I try to dedicate enough time into improving our union. You can expect your marriage to fail if you do not put time into it," she said.
In a few months, the art of marriage will take center stage when Family Life hosts a six session video event to help couples improve their relationships.
At the Art of Marriage, couples will experience God's design for marriage from expert teachers and humorous vignettes. It also seeks to give couples the opportunity to interact with each other. The two day video event starts May 31 through June 1 at Superclub Breezes.
For more information about "The Art of Marriage" event, log onto www.calvarybible.org.bs.