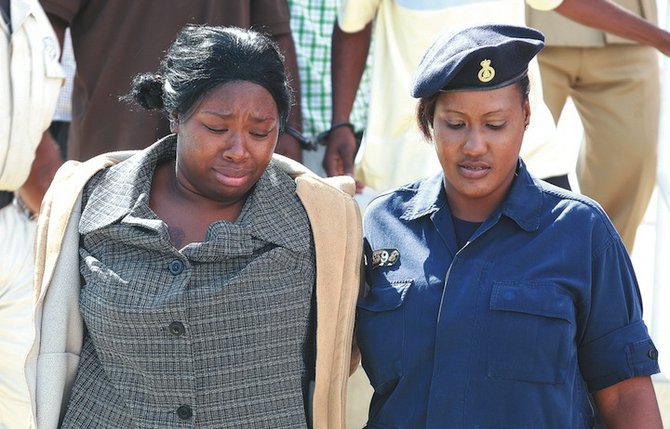 By LAMECH JOHNSON
Tribune Staff Reporter
ljohnson@tribunemedia.net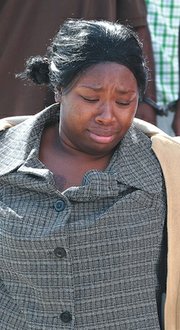 A MOTHER still breast-feeding her less than five month old baby was told by a magistrate that despite her circumstances, the court could not grant her bail.
After hearing this, Richa Rolle burst into tears as she took her seat in Court One, to wait for the female police officer who would escort her to a holding cell.
The young mother, Leslie Elliot and Dennis Rolle were arraigned before Chief Magistrate Roger Gomez on charges of armed robbery and firearm possession.
It is claimed that on Friday, March 30, they robbed a Fox Hill man of jewellery and cash together valued at $2,000.
It is also claimed they were in possession of a handgun.
The three were not required to enter a plea to the charges.
Chief Magistrate Gomez told them their case would go directly to the Supreme Court for trial by way of a Voluntary Bill of Indictment, to be issued on June 21.
He said they would be remanded to Her Majesty's Prison until the completion of the trial.
At this point, the young mother's predicament was brought to the chief magistrate's attention.
It was revealed that provisions had been made for the mother to breast feed her child while in police custody after her arrest.
The mother asked to be granted bail in order to make the process easier, and so she would not have to be away from her baby girl.
Chief Magistrate Gomez said he sympathised with her plight, but added: "There is nothing I can do. According to the law, I don't have the power to grant bail."
According to the amended Bail Act, in effect since November 4, 2011, magistrates can no longer grant bail in serious cases such as murder, armed robbery, rape, attempted rape and various offences involving firearms.
Chief Magistrate Gomez did say he would see if "some arrangements can be made" to allow the child to be brought to prison for nursing.
The young mother and her co-accused were escorted out of court e to the holding cells in the new Magistrates Court complex.
She cried again after seeing her baby girl being held by a relative.