BY DENISE MAYCOCK
Tribune Freeport Reporter
dmaycock@tribunemedia.net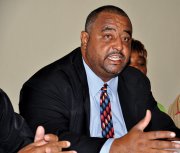 FREEPORT – After almost five years of leading protests against the Grand Bahama Power Company, which recently announced a "relief initiative" for disconnected customers, community activist Troy Garvey criticised the FNM for seeking to take credit for the breakthrough.
Mr Garvey, the independent candidate for Marco City, accused the FNM of using the initiative as a "political ploy" to gain votes.
"I find it to be disingenuous and dishonest of the government and its GB surrogates to claim favour for the GBPC," he said.
"The posturing by the FNM candidates, in particular Pakesia Edgecombe (West Grand Bahama and Bimini), Norris Bain (Marco City), and Peter Turnquest (East Grand Bahama), is a slap in the face to the GB community."
On Tuesday, the FNM candidates held a press conference thanking the Power Company for following the government's lead in bringing relief to some customers.
Mr Turnquest noted that after months of meetings and discussions with company officials, an initiative that mirrors the programme created by the government for struggling BEC customers in New Providence and the Family Islands was announced.
But Mr Garvey said none of the three candidates were on the front line, demonstrating with the people.
He said the fight against high electricity costs started in 2009.  
"After we collected 5,000-plus signatures on a petition, and agitated for power rates to be lowered in Grand Bahama, they (the FNM) have now come to do some positive things for GB people?
"I cry shame on the government for trying to use this from the platform I have built. It really hurts my heart and it saddens me… that they are using this as a political ploy – that is what you call hoodwinking the people.
"Mrs Edgecombe, Mr Turnquest and Mr Bain have not attended one town meeting or demonstration to show their support for the people who have been fighting since 2009."
"Where were they when people were demonstrating and signing petitions? Where was the government when businesses had to close and leave the country?
"Where were they when people had to move out of their homes? Why are they coming forward now?"
Although he commended the Power Company for helping disconnected customers, Mr Garvey said he would continue to fight for a reduction in the fuel surcharge.
The Power Company has said all residential customers disconnected for non-payment can register for the reconnection programme, which ends on April 10.
According to the company, the programme requires qualified residential customers to agree to a three-year payment plan for the balance of any arrears and to pay one full month's bill.
The company will waive the standard reconnection fee. Failure by the customer to follow the plan will result in disconnection.
"Grand Bahama Power Company understands that a number of our customers have been struggling due to the tough economic climate in Grand Bahama," said Katherine Demeritte, customer service director for GBPC. "When we were approached by the government about offering a residential reconnection plan for our customers, we thought it was the right thing to do."