By ALESHA CADET
Tribune Features Writer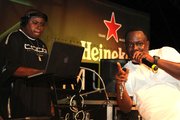 WELCOMING the biggest crowd since its inception six years ago, Beer Fest 2012 provided patrons with a double dose of entertainment using a split-theme concept to divide and style the venue.
Annemarie Romer, market and consumer intelligence manager at Burns House, said two separate parts of the venue were opened up for the party this year, and each side had its own creative spin.
"One side was very loud and energetic. Whereas the other side was not as outgoing and not as loud. That side was for people who wanted a much more relaxed environment; the excitement was a bit different on that side," said Ms Romer.
The event was celebrated in grand style last Saturday, as nearly 10,000 patrons gathered at the Butler and Sands Grounds, according to estimates by the organisers. They hope to attract upwards to 12,000 next year.
"I think we had significant time prior to the date (to promote the event), which made it impactful. Most people had already booked the date off as Beer Fest, so we had the entire community talking about it in anticipation," said Ms Romer.
With the international sound of dancehall reggae fusion duo, Voicemail, on the Beer Fest grounds, attendees said the event was worthwhile. David Smith*, an attendee, said: "I got the chance to see Voicemail perform a few times before, but it was overseas, so I really enjoyed them in my hometown and it was worth my time. Besides all the affordable beer that was at my avail, I must say the entertainment was on point."
Attendee Kristin Neely*, who spent most of her time on the 'hype side' of the venue, she and her friends made Beer Fest a "family affair". She said good company made the event even more enjoyable.
Kathy Cooper*, a Beer Fest patron, who came expecting to find beer from around the world, said she was disappointed with the event, because it was a 'same old' kind of affair.
Additional highlights from the event included a dance performance by well known Bahamian dance group Juice Unit and selections from Nassau's finest DJs.
Names have been changed*
Photo Gallery
Beer fest 2012