NOELLE NICOLLS
Tribune Features Editor
nnicolls@tribunemedia.net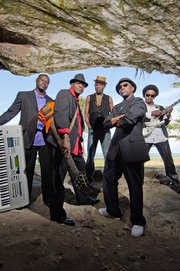 It was a Bahamian competition, but traditional Bahamian music was not the only sound on the stage at the Global Battle of the Bands, Bahamas competition. Reggae, rock n' roll, Jazz, alternative rock, and any number of international sounds graced the stage on Saturday night.
One veteran band, who stuck to the country's native roots was Ira Storr and the Spank Band. Less than one pointed sealed the fate on the weekend, as they were edged out of first place by fellow performer KB and the Stinkin Wayz, an alternative/rock group.
"We were trying to show Bahamian people that Bahamian music is still there and we are trying to bring this back. We want to bring back the good ole days, which is Bahamian music," said Chad Young, lead guitarist and bass player for the Spank Band.
Although the band was looking forward to taking their Bahamian sound to the world, the GBOB will not be their ticket this year. Even still, Ira Storr said his team represented the country well.
"We put a twist on the rake 'n scrape, Goombay and Junkanoo, which is our culture music. From the Bahamas, when you are representing your country, yea you can do rock 'n roll or whatever, but my thing is, our culture is what stands out. And if they are looking for something that is going to speak to the culture, then we give them that. I think Spank Band aroused this whole crowd all night," said Mr Storr.
"You know, we are still all Bahamians, but if I am doing rock n' roll and I am representing my country, I feel like I am a Bahamian who is doing rock n' roll, but Ira Storr representing my country, I have to give you the best in our culture music, which is Bahamian music: Junkanoo, Goombay and rake 'n scrape," he said.
One of the judges who spoke to the Tribune, said he looked for a band who presented strong universal themes. In some cases, he said, as the bands revved up their performances, their themes "became narrower", and more island-centric.