By CELESTE NIXON
Tribune Staff Reporter
cnixon@tribunemedia.net
BISHOP Hanchell has spoken out in favour of election reform.
Addressing a number of matters, church leaders gathered yesterday at a press conference at the New Covenant Baptist Church to speak on social issues, including crime and politics.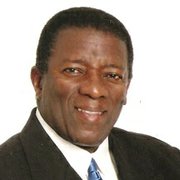 While other members of the clergy did not comment, Bishop Walter Hanchell said he believes a fixed election date should be legislated as it is used for political purposes in the Bahamas.
He said: "The country is being held hostage for all these years since independence or before independence, if that date is fixed it would eliminate a lot of chaos and confusion and it would take the power away from any prime minister that was in office to manipulate the system."
In the midst of the election season, Pastor Simeon Hall encouraged the public to express their opinions in a respectful matter and refrain from "mudslinging."
He said "we must go beyond those uncalled for things, let's talk about the issues and differ on programmes and move forward".
As public servants politicians should be held accountable for having good morals, however, there is no place in the election process for mudslinging, said Bishop Hanchell.
"We are concerned about our country developing as a first world nation and we want to know who will provide us with the best programme to take us there - we are not concerned about people's bedroom business," he said.
Speaking on crime, Pastor Hall said during a time in which most Bahamians celebrate the passion and resurrection of Christ, murders continue throughout country, fueled by the culture of drugs.
He said: "We pastoral appeal to all drug dealers to cease and desist in their ongoing war with civility and positive progress of our society."
According to Pastor Hall the record shows that those involved in drugs often die or are imprisoned.
"The monetary gains which drug dealers enjoy is tainted with the blood of those who become victims in the demonic prison of drug addiction," he said.
Stating that nearly half of all murders in the Bahamas in the last two years could be connected with drugs, Pastor Hall encouraged drug dealers to consider their families and others who are affected by their actions.
Bishop Hanchell said there has been a lot of talk, but with the crime in the country escalating something needs to be done.
"We believe that our leaders, the church, the community must all come together and come up with a solution that will bring these murders to an end," he said.
"What is happening now is it is affecting our tourism product and unless we deal with this post haste, unless we deal with this all together, we are not going to fix it."