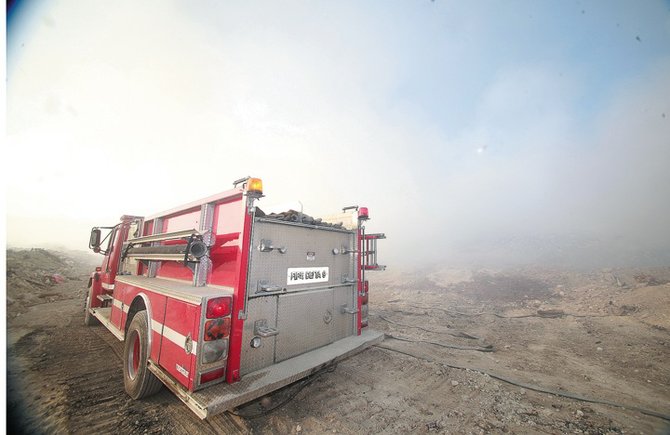 By SANCHESKA BROWN
Tribune Staff Reporter
sbrown@tribunemedia.net
MORE than 20 firefighters worked throughout the night to extinguish a fire at the City Dump that has been burning for two days.
Yesterday afternoon, the Fire Chief, Superintendent Walter Evans, said the fire was still smoldering below the surface.
"There are no visible flames but the fire is still there, burning at between three to five feet below the garbage. We had to use several pieces of heavy-duty equipment to assist in disrupting the surfacing so we can get to the fire," he said.
"It is a very huge area so we have people from Fire Services, the Defence Force and Environmental Health to assist us. There were some challenges with wind and so we had to make some adjustments to our strategy. That impeded the process a little.
"Right now however, the fire is contained and not out of control. It is still giving off smoke and every effort is being made to reduce the smoke discomfort."
Supt Evans said the cause of the fire is still unknown.
According to police reports, the Fire Department got a call shortly before noon on Tuesday that the City Dump was ablaze. Firefighters responded and were able to contain the fire quickly.
Police are advising residents of the area to keep their windows closed and do whatever they can to avoid inhaling the thick smoke.
Anyone experiencing breathing problems or headaches, vomiting, nausea or unusual fatigue, should seek medical assistance immediately.
Drivers who use Fire Trail Road, Milo Butler Highway and the surrounding areas are asked to drive with care and attention and avoid the area if possible.