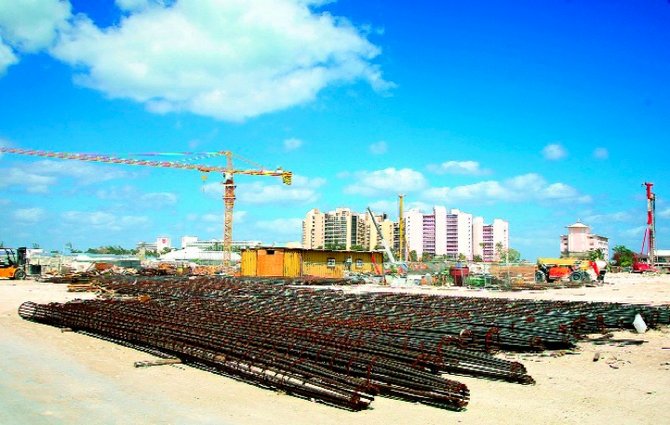 By NEIL HARTNELL
Tribune Business Editor
CONSTRUCTION work on Baha Mar's $2.6 billion Cable Beach redevelopment is "one-third complete", a senior executive said yesterday, after hitting a "significant milestone" with the installation of the last of 2,550 foundation pilings.
Robert Sands, Baha Mar's senior vice-president of government and external affairs, told Tribune Business that yesterday's installation of the last foundation piling was the last piece of "underground work" on the superstructure of the developer's resort campus.
Apart from the casino hotel and casino, that superstructure will also feature a 200,000 square foot convention centre, plus Hyatt, Rosewood and Morgans-branded resorts.
"The final foundation piling for the entire superstructure has gone in," Mr Sands told Tribune Business. "That's a very significant milestone for us. The significance is that all the foundation pilings have been installed, so everything done from now will be above ground. It's 2,550 foundation pilings in total."
Again expressing confidence that the Baha Mar campus superstructure would meet the target of being 100 feet above grade at July 1, 2012, a deadline it needs to meet for certain conditions under the revised Heads of Agreement to kick-in, Mr Sands said construction spend and worker numbers had not changed much since the 2011 year-end.
"We're one-third of the way," he told Tribune Business in terms of how much construction work had been completed, adding that the Baha Mar campus superstructure was targeted for finish by December 2013.