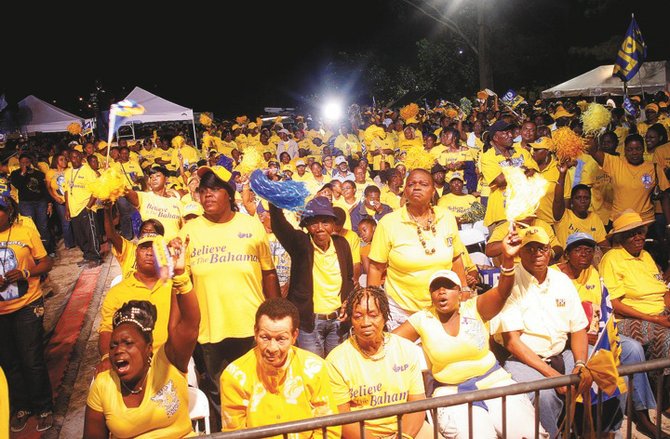 HUNDREDS of staunch Progressive Liberal Party supporters gathered at Arawak Cay on Wednesday night for the party's first mass rally ahead of the May 7, 2012 general elections.
The event began at 8pm, and although it go off to a slow start, droves of people eventually packed the rally site to hear party leader Perry Christie's address.
Before Mr Christie took the stage, the PLP's candidate for Elizabeth Ryan Pinder told the crowd about how his party believes the FNM made the recession worse for Bahamians.
Other senior PLPs, including MICAL candidate V Alfred Gray, South Beach candidate Cleola Hamilton and Montagu candidate Frank Smith, were welcomed to the stage by excited supporters.
Mr Christie took the podium after Deputy Leader Philip 'Brave' Davis delivered a short message.
As leader, Mr Christie repeated his party's plans if they are elected.
He went on to recall the "unsuccessful" projects undertaken by the FNM - among them, the New Providence Infrastructure Improvement Programme.
The PLP is expected to have another rally at Clifford Park tonight, at 8pm.