By BRENT STUBBS
Senior Sports Reporter
bstubbs@tribunemedia.net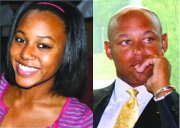 IT'S very rare that you see a father and daughter combo head down the same path. But Lionel and Lauren Haven are not your ordinary soccer players.
The duo both excelled in the men's and women's divisions in the Bahamas Football Association (BFA) and now Lauren has agreed to attend the University of Charleston where Lionel starred during his heyday for the Golden Eagles.
"I felt Charleston provided me with a better chance to play, the coach is more sociable and I connected with him," said Lauren on her decision to attend Charleston.
Of course, she was provided with a scholarship and so Lauren said the fact that Lionel attended Charleston didn't play a factor in her final decision.
"It's good that he went there but since I had an opportunity, I decided to take it," Haven said. "I still have to go over there and play up to my potential."
Lauren is a five-foot, seven-inch attacking midfielder/striker who has played on the national team since 2008. She is presently training with the under-17 national team for the World Cup qualifier in Guatemala in May.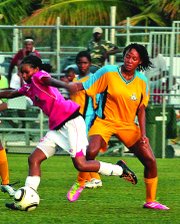 She is the captain of the Queen's College Comets senior girls' soccer team that won the Bahamas Association of Independent Secondary Schools (BAISS) championship last month.
"I'm expected to go there and show them how we play here," she said. " He (head coach Todd Diuguid) wants me to score goals so I hope to use the techniques that I've learnt here and improve on what he will teach me to get better."
Lauren, 16, is also the captain of the Cavalier Football Club under-17 team that plays in the BFA Youth League. Lionel, by the way, played the majority of his career in the BFA with Cavalier after he started with the Nick's Body Shop.
During her tenure at the University of Charleston, Lauren hopes to pursue a degree in business. Lionel graduated in 1989 with a degree in accounting and finance.
Diuguid said they are pleased to welcome Haven who comes in with some great credentials, including being the first female soccer player from the Bahamas.
"We're very excited for Lauren to join the University of Charleston soccer programme," said Diuguid, who got the letter of intent from Haven on Monday.
"We didn't have such a good season last year but we're hopeful that Lauren will boost our offense this year. Last year, we allowed 22 goals and only scored 21. We had many opportunities to have success but just didn't finish in critical times."
The Golden Eagles finished with a 5-10-2 win-loss-draw record overall, including 4-4-0 at home. They were 4-3-2 in the West Virginia Intercollegiate Athletic Conference.
In August, when she heads to Charleston, West Virginia, Haven will join seven other incoming freshmen who will compete with four transfers, something that has Diuguid beaming with excitement.
"We expect to do extremely well in conference play and in our regular season," said Diuguid, preparing for his 10th season in the affiliated National Collegiate Athletic Association (NCAA) Division II. "I'm excited for her to come in."
Diuguid played for Marshall University where he was a central defender/forward. However, he played against Charleston when Haven was a member of the Golden Eagles. "I have to give it to Lionel. He got us," said Diuguid of their head-to-head meetings. "When we were working on getting Lauren to sign, we reflected on those days that we played against each other."
The University of Charleston has a rich legacy of Bahamians playing for the Golden Eagles. During his reign, Haven was joined by David Allum, Tony Arana and Mark Edgar.
After they left, Garvin Christie played for the Golden Eagles from 2001-2004. Lamar Cancino was the last Bahamian to play at Charleston 2007-2010.