By RENALDO DORSETT
Sports Reporter
rdorsett@tribunemedia.net
THE College of The Bahamas' track and field team competed in the Bethune Cookman University Invitational - its third intercollegiate competition of the spring semester - over the weekend.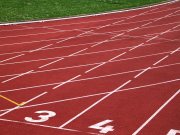 The 12-member team finished fifth in the women's division and 10th in the men at the meet held in Daytona Beach, Florida.
Led by junior standout discus and shot put thrower Julianna Duncanson, the women totalled 23 points while versatile jumper Leonardo Romer led the men with 17 points. Duncanson finished third in the discus with a throw of 37.11m.
Shabreka Carter of Albany State finished first with a throw of 38.81m while her teammate CreeAnn Perkins was second with a throw of 37.57m.
Fellow COB Caribs Ashley Oembler finished sixth with 30.98m and Kendera Bethell tossed 28.32m to finish seventh.
In the shot put, Duncanson was fourth with 12.03m.
Perkins took first with 12.70m, Desiree Richardson of Bethune Cookman was second with 12.53m, while Brittany Dean was third with a heave of 12.23. Bethell threw 10.12m to finish fifth and Oembler threw 9.89m to finish sixth.
In the triple jump, Romer finished fourth with a jump of 12.81m while La'Quan Howard of Bethune Cookman took with event with his 14.65m jump.
In the high jump, he finished fifth with a 1.78m leap in the event won by Limestone College's Jordan Manning with 2.03m.
In the long jump, Romer was eighth with a 5.80 leap while Albany State's Gregory Green won with a 6.97m jump.
In the men's century, Giovanni Culmer finished 12th in a deep field in 11.77s, while Traz Nixon finished 22nd in 12.16s. Bethune Cookman's Christopher Jackson won in 11.08s.
In the 200m, Roddeno Davis finished 22nd in 24.95s and Jackson completed the sprint double in 22.46s.
Nixon, Davis, Romer and Culmer teamed to finish sixth in the 400m relay in 45.03s. The race was won by Bethune Cookman in 41.25s.
Quartermiler Terrane Roker finished 20th in the 400m in 58.29s and in the shot put, Richard Francis finished fifth with a throw of 10.53m.
This was the team's final intercollegiate meet as many of these athletes will turn their focus to the BAAA Nationals in June and the NACAC U-23 team that is slated to compete in Mexico this summer.