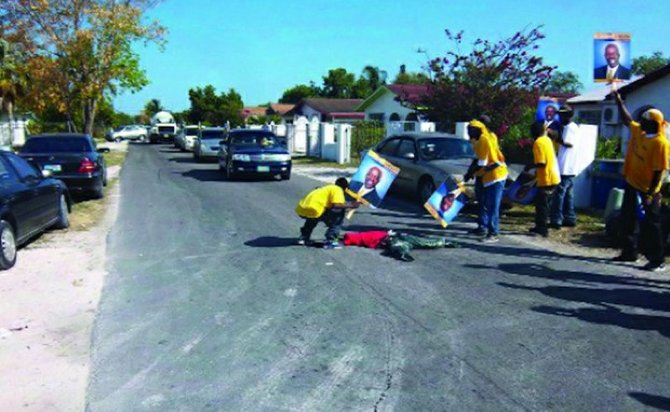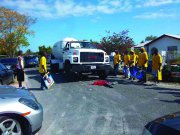 NOMINATION day was marred by claims of violence and aggression, as photos surfaced of PLPs driving over an effigy of an FNM, while the opposition accused someone on the government's side of injuring an elderly supporter.
According to the photos, the simulated violence against an FNM was carried out by supporters holding posters of MP Shane Gibson. They were posted on Facebook page of the PLP Golden Gates branch, but were taken down a short time later.
"Taking the pictures down to hide the evidence is not enough. Perry Christie, Brave Davis or whoever is actually in charge of the PLP needs to apologise and disavow this kind of behaviour immediately," said FNM spokesperson Tommy Turnquest.
"As the country is seeking ways to reduce violence, PLP supporters are promoting the idea of violence against political opponents. The PLP would be better served spending their time putting out a plan, than engaging in this kind of behaviour," he said.
Meanwhile, the PLP accused FNM supporters of ruining nomination day with an act of real violence.
In a statement issued yesterday afternoon, the opposition said: "In what should have been a jubilant day in the country as the candidates for all political parties and independents nominated for the upcoming general elections, a family today is hurting as one of their own was injured.
"This morning in the Farm Road constituency an elderly lady who happens to support the Progressive Liberal Party was struck in the face, allegedly by male supporters of the Free National Movement.
"The Progressive Liberal Party strongly condemns this act and any other acts of violence. We reiterate the directive of our leader that these be peaceful elections and ask that the Prime Minister admonish his supporters concerning these senseless acts of violence which are a total affront to democracy."
Assistant Commissioner of Police Leon Bethel said officers will show zero tolerance for lawbreakers during the election season, but will also be careful not to inflame matters.
No incidents were officially reported yesterday, Mr Bethel said, but he urged supporters to communicate without conflict in the run up to the general elections.
"We want people to see the election as a necessary process," Mr Bethel said.
"The police will use discretion when dealing with election conflicts and complaints. We will show restraint and try to minimise the situation."
He added: "We don't want to arrest anyone during the election season; we will allow voters to express their opinion."
In the weeks leading up to the election, Mr Bethel said, there has been a significant increase in the number of senior police stationed at rallies and political events.