By CELESTE NIXON
Tribune Staff Reporter
cnixon@tribunemedia.net
DESPITE continuing to talk and make promises, opposition leader Perry Christie has still not released his five-year platform, Prime Minister Hubert Ingraham pointed out.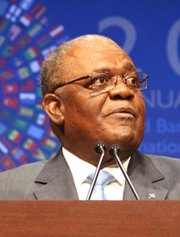 The FNM, by contrast, has already produced a hefty 2012-2017 manifesto, and the DNA has issued a 20-page preview version of its plan.
Speaking at an FNM rally in North Eleuthera Wednesday night, Mr Ingraham said: "The whole election campaign is only four weeks. With a quarter of the campaign behind us, the late-again PLP leader has yet to inform the Bahamian electorate on the details of his election platform.
"His campaign speeches and those of his candidates up to now have been filled with just one thing: Ingraham, Ingraham, Ingraham," the Prime Minister said.
The rally came one day after photographs surfaced of PLP supporters driving over an effigy of an FNM supporter, and Mr Ingraham asked why no one in the PLP has come forward to condemn the act.
He said: "They keep talking about their new plan to address crime. Have you heard anyone in the PLP condemn the symbolic killing of an FNM supporter yesterday?
"They plastered the effigy of an FNM supporter being rolled over by PLP adorned-vehicles in Golden Gates. Now that is an invitation to violence; not a call for peace and respect of the law."
Mr Ingraham said the lack of condemnation by Mr Christie proves nothing has changed in the PLP and that the opposition would only bring "disorganisation and dysfunction" if elected as the government.
"The very same man who failed to fulfill his first duty as Prime Minister in 2002 can't condemn violence by his supporters, or even get out his party's election platform in 2012," said Mr Ingraham.
"Doesn't that sound like nothing has changed?"