By BRENT STUBBS
Senior Sports Reporter
bstubbs@tribunemedia.net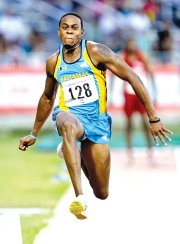 Triple jumper Leevan 'Superman' Sands and high jumper Donald Thomas both opened their 2012 outdoor season with victories as they begin their quest for the London Olympics in August.
The duo, along with sprinter Sheniqua 'Q' Ferguson, led a field of Bahamian athletes who competed at the War Eagle Invitational at the University of Auburn in Auburn, Alabama, on Saturday.
Sands, competing for Mizuno, had four consecutive jumps in the 16 metre range after opening with a 13.99m. His best leap came on his fifth attempt at 16.99m or 55-feet, 5-inches for the win.
Sands' nearest rival was Jason Harper with 15.51m (50-10 3/4) on his sixth and final attempt as he went under the B qualifying mark for London of 16.85m and just shy of the A standard of 17.20m. The jump would also place him eighth on the IAAF world list for the year.
"First one out the gun, I was quite satisfied. Coach (Henry Rolle) had everybody's marks on the chalkboard and I hit it as he wanted me to do, so I felt pretty good," Sands said.
"That was my target for the day and I did it. Seeing that I'm coming back from the injury that I had at the Worlds (last year), I'm feeling good. It's still early. Back in 2008, I opened up with 16.98m. That ended up being a great season for me. So hopefully seeing that I opened up with the 16.90, it will be another successful season for me."
Sands, who went on to win the Olympic bronze medal in the triple jump in Beijing, China, in 2008, is scheduled to compete again in Guadeloupe on May 1 before he competes in Jamaica on May 6.
"Everything has been going good. Training has been going good. I can't complain of anything," he said. "My second son, Lion, is seven months old, so he's been keeping me busy. But he is a blessing. I have two to perform for. He and my other son, Leevan III, or Trey as we call him, are my motivation. So everything is going pretty good and I just want the public to know that Superman is still here. I haven't gone anywhere."
Sands, who turns 31 on August 16 at the Olympics, said he just wants to assure the public that he's going to be ready for London. He just wants to pace himself and not get burned out before August.
Meanwhile in the high jump, Thomas and Ryan Ingraham had a Bahamian showdown going.
That was until Thomas, representing Nike, surged to the front to easily win with a leap of 2.26m (7-5), just off the Olympic B qualifying mark of 2.28m. The A standard is 2.31m. Thomas will end up in a two-way tie with American James White for fourth on the IAAF world list. Ingraham had to settle for third with 2.17m (7-1 1/2).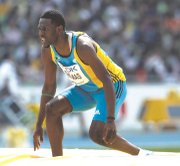 Ferguson, who had earlier led the IAAF performance list with the fastest time in the world so far this year in the women's 200 metres, went down to the 100 where she took the straight away race in 11.07.
It will be another world leading time for Ferguson, who will surpass American Octavious Freeman, who now leads with 11.10. It was also an A qualifying mark as Ferguson went under the standard of 11.29.
Also in the final was Ferguson's former Auburn team-mate, Grand Bahamian Nivea Smith, a senior, who was seventh in 11.78, just ahead of Alabama State's senior Tia Rolle in 11.81.
Smith and Rolle also contested the 200. While Jamaican Kerron Stewart took the tape in 22.79, Smith trailed in 23.32. Rolle was seventh in 23.88, two spots ahead of Auburn's sophomore V'Alonee Robinson, who ran 23.93 for eighth place.
In the 4x100 relay, Ferguson helped the Auburn Elite to the victory in 42.81. Smith ran the second leg on the Auburn's team that followed in 44.14 and Rolle did the second leg for Alabama as well as they took fourth in 45.97.
Smith also had double duties in the relays, running the anchor leg for Auburn in the 4 x 400 as they placed third in 3:42.99.
Also on the women's side, Auburn's senior Krystal Bodie qualified in the sixth spot in the preliminaries of the 100 hurdles in 13.45. But she didn't contest the final that was won by Kimberly Laing in 13.08.
Bodie was also in the 400 hurdles where she placed 11th in 1:03.30.
On the field, Bianca Stewart showed her versatility as she picked up a sixth place in the women's high jump invitational with a best leap of 1.75m (5-8 3/4). The winning height was 2m (6-6 3/4) by Chaunte Lowe.
But Stewart ended up second in her specialty in the long jump with a distance of 6.511m (21-4 1/4) on her first attempt. Joyanee Jarrett took the victory with 6.60m (21-8). Robinson, also competing in the event, was 13th with her best of 5.44m (17-10 1/4).
On the track for the men, Jamial Rolle clocked 10.40 for fifth place. Mookie Salaam was the winner in 9.98. Quarter-miler Aaron Cleare was 19th in the preliminaries in 10.84. 110m hurdler Shamar Sands, getting back in the rhythm after a series of injuries, was 21st in 10.86 and long jumper Nyles Stuart was 31st in 11.12.
Rolle also contested the 200 where he was third in 20.84. Keenan Brock, third in the 100, won the race in 20.47. Shawn Lockhart, a junior at Alabama State, was 32nd in 22.15.
In the 400, Grand Bahamian Andrae Williams got third in 47.24. Nathan Arnett, a junior at Mississippi State, ended up 13th in 48.81. Jamal Butler didn't finish the race that was won by Brady Gehret in 46.05.
Arnett was the lone competitor in the 110 hurdles. He got third in the final in 14.14 after qualifying with the second fastest time of 14.09. Eric Keddo won the final in 13.97.
In the 4 x 100 relay, Lockhart ran the third leg for Alabama State, who failed to finish the race.
Also on the field on the men's side, Stuart picked up a fourth place in his specialty in the long jump with a distance of 7.42m (24-4 1/4) on his fourth attempt. Jarrett Samuels won with 7.61m (24-11 3/4).