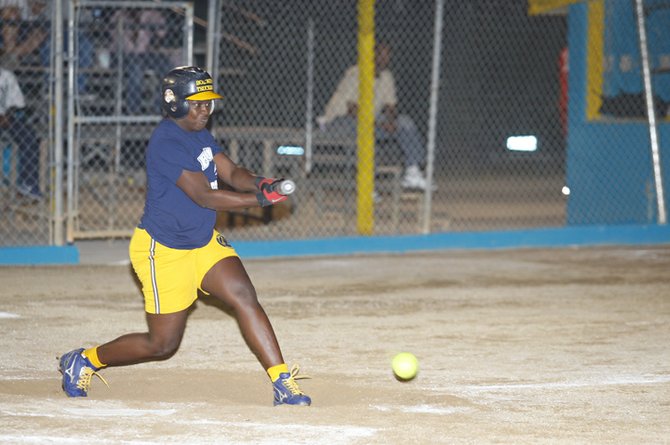 By BRENT STUBBS
Senior Sports Reporter
bstubbs@tribunemedia.net
It was a slugfest at the Banker's Field last night as the Bommer G Operators avenged their loss to the Proper Care Lady Sharks.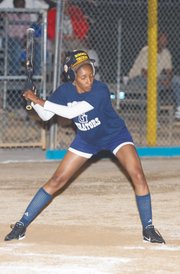 In the New Providence Softball Association's 2012 fastpitch season opener that was delayed Saturday night because of the rain, the Operators pulled off a 19-14 decision over the Lady Sharks.
"We came out tonight and put the bat on the ball," said Bommer G's manager Mario Ford. "We played some defence up to the fifth or sixth inning. We still have some more work to do defensively."
Bommer G out-hit Proper Care 22-17 and they committed two less errors, 2-4, in the marathon game that had three lead changes.
Leading 12-9 going into the bottom of the sixth, the Lady Sharks had a chance to close the gap even further when Lady Operators' ace Desiree Coakley went down with a freak injury in the dug-out.
However, Sharnelle Symonette proved why she was such a valuable pick-up in her transition from the Lady Sharks during the off-season. Symonette, who started in right field, came in and closed the door on her former team.
"Our pitcher couldn't come out in the sixth inning because she accidentally slipped in the dug-out and she hurt her ankle," Ford said. "Whatever the damage is to it right now, we don't know yet until she has it checked out. But that is one of the reasons why we picked up Sharnell. She came and finished the job off for us."
Symonette was able to hold Proper Care to just one run on a hit in the sixth and three more runs in the seventh on four more hits.
It was a little too late because Bommer G had already built on their lead with five runs on five hits in the top of the sixth and they got two more runs on three hits in the seventh to preserve the win.
Although his Operators were leading comfortably 19-11 going into the seventh, Ford said they made a couple of costly mental mistakes and they allowed the Lady Sharks to make the score a little closer.
Every batter got at least one hit for Bommer G. But it was left fielder Lathera Brown who led the attack with a 4-for-6 night, just missing the cycle with a triple, double and two hits, driving in four runs and scoring four times.
Third sacker Tyrice Curry also went 4-for-6 with a pair of RBI and three runs scored, Symonette was 3-for-5 with a RBI and four runs, second sacker Vantrice Bowleg was 4-for-6 as well with four RBI and first sacker Chryshann Percentie was 3-for-5, scoring a run with another attributed to pinch runner Jelice Darling.
Before she left, Coakley was credited with the victory on 12 hits before Symonette came in for the save.
Alex Gilbert went the distance, suffering the loss on 22 hits with four strike outs. However, she admitted that although they played very flat, it's still early in the season.
"We could have played better than we did," she said. "It's the first game. We have a whole season ahead of us. All we have to do is get to the playoffs.
"We won the championship last year but that doesn't mean that we will go out there and dominate the league. We know that everybody is coming out to get us. We played them in the championship and they came out with vengeance to beat us and they came out on top."
Centrefielder Kenyoka Ingraham led the way offensively for the Lady Sharks with the first in-the-park home run in her 3-for-5 production with three RBI and a run scored.
Shortstop Terkia Munroe went 3-for-5, scoring three times, right fielder Lashanda Bethel had a pair of hits, Vonetta Nairn had a pair of hits with as many RBI and runs scored and right fielder Raquel Cooper was 3-for-5 with a RBI and run scored.
Also last night, the league played its men's opener between the defending champions Bommer G Truckers and YII Shipping Bulldogs. That game was also rained out on Saturday.
Another double header is slated for tonight. In the 7pm opener, the YII Shipping Wildcats are scheduled to take on the Black Scorpions (L) and at 8:30pm, the Dorin United Hitmen are set to face the CCG Mighty Mitts (M).