Caribbean medical history will be made on April 26 with the groundbreaking of a new cancer centre in St John's, Antigua that is modeled off a Bahamian initiative.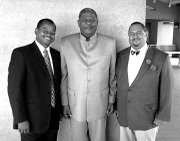 Antigua Prime Minister, Dr Baldwin Spencer and dignitaries from across the Caribbean, including the Bahamas, and the United States are scheduled to mark th occasion.
The center's development was spearheaded by the Hon. Arthur Porter and Dr Conville Brown on the Cancer Centre model developed in the Bahamas.
'This is a very significant development' said Prof Porter. "We have been able to demonstrate that by leveraging skills, and medical technology across a network, we can provide the same care as the US, UK, and Canada."
Under the model, the burden of expensive, high tech medical care such as radiation therapy, is shared by the private sector, government sector and general public or user sector so that more people have access to care, irrespective of their ability to pay.
'Our Partnered Care Model represents a model for inter-sector and inter-Caribbean cooperation' said Dr Brown. "This is a made in the Caribbean solution to a Caribbean and developing country issue."
The Centre currently will provide cancer services to St. Kitts and Nevis, St Vincent and the Grenadines, Dominica, Anguilla, Montserrat, the BVI in addition to Antigua and Barbuda.
In 2004, the Cancer Centre Bahamas opened its doors for the treatment of Bahamians with cancer, providing the only radiotherapy service in the country. For the last six years it has been accredited by the American College of Radiation Oncology - the only centre outside continental North America to hold this designation. Earlier this year the Bahamas' Centre expanded its reach with the development of a monthly clinic in the Turks and Caicos Islands.
In November 2009, Drs Brown and Porter signed a Memorandum of Understanding with the Government of Antigua and Barbuda to begin the feasibility studies to determine the need for a cancer centre in the Eastern Caribbean region.
Dr. Brown also presented the concept at the Organization Of Eastern Caribbean States' 50th Heads of Government Meeting in Anguilla.
Prime Minister Spencer commended Dr Brown and Pro. Porter for all the efforts made in bringing the dream to a reality.
He said: "This will be one of the most significant medical developments for our region. Our mortality from cancer is much higher than it need be - patients need to be treated abroad, which is often unavailable and can be very costly. This provides a very cost-effective solution to a major healthcare issue."