By NEIL HARTNELL
Tribune Business Editor
ORGANISERS behind the Islands of the World Fashion Showcase will next month launch an online boutique/label designed to promote the wares of Bahamian designers to the world, telling Tribune Business yesterday that 50 per cent of those exhibiting at their upcoming show were from this nation.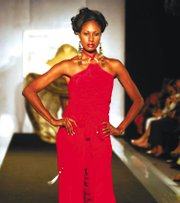 Confirming that six of the 12 designers set to exhibit during the May 11-12 event at the Sheraton Nassau Beach Resort were Bahamian, Indira Moss, Fashion Showcase's production manager, said the online boutique's launch would take the event - and its brand - "to the next level".
She added that Fashion Showcase was also set to unveil a partnership with renowned Bahamian artist, Antonius Roberts, and his studio Hillside House that would act as an 'incubator' for aspiring Bahamian designers and help them reach the standards required to exhibit at the show, which has now gone bi-annual.
Disclosing that the planned online boutique would be called Exiles, meaning 'From the Islands', Ms Moss said it would act as both a showcase for Fashion Showcase's designer exhibitors and a vehicle to enable them to sell product to a global audience.
"What we're doing is taking Fashion Showcase to the next level," Ms Moss told Tribune Business. "Before we talked about one of the missions being establishing an online boutique and label, which would almost be like a cooperative of designers to be marketed abroad.
"What we are launching this event will be the online boutique, called Exiles, meaning 'From the Islands'. We've in fact gotten a significant response from the designers that are going to showcase, and some not showcasing, to use it as an avenue to sell their products.
"It's certainly been met with a lot of enthusiasm. It's certainly the first time this has been attempted on a regional or international basis for designers. The day after they make presentations on the runway, people will be able to go online and order product."
Fashion Showcase, originally Islands of the World Fashion Week, has reinvented and rebranded itself for what is effectively this year's re-launch, converting itself into a bi-annual affair. The May event will focus in swimwear and sports casual wear, all by designers from islands such as the Bahamas, the wider Caribbean and other island nations.
Describing the May 11-12 event as a "Victoria Secrets-style" show, Ms Moss said that among the 12 designers would be six Bahamians - Chelsea Johnson, Courtney McIntosh, David Rolle, Harl Taylor Bag, Latoya Hanna-Moxey and Theo Sealy. Four Bahamian artists will also be providing entertainment at the runway show.
"We're right on target in terms of what we wanted, 50 per cent being from the Bahamas, and it's a very good mix of established and new designers," Ms Moss told Tribune Business. The event has been successful in the past, at least three designers securing contracts with boutiques and fashion houses in New York and London.
With Fashion Showcase's runway show taking place on one day this year, Ms Moss said she anticipated some 400 persons attending it, of whom 50 per cent were likely to come from abroad.
Its 2010 version enjoyed a half-hour of television exposure in Florida, New York and the Caribbean, and organisers are looking at doubling that time to one hour this year, while widening the audience to destinations such as Australia and Canada.
Ms Moss revealed that Fashion Showcase planned to announce, at the May 10 opening reception, that it was "joining forces" with Hillside House and Mr Roberts to provide a bridge between the show and budding Bahamian designers and fashion entrepreneurs, further aiding the development of what remains a fledgling industry in this nation.
"What we're going to be doing every other month, is that we're going to be hosting lower key fashion shows of new, young Bahamian designers and his gallery," Ms Moss explained.
"That will be a lead in for them to get exposure and build the industry in terms of consistency throughout the year, as opposed to being concentrated on when Fashion Showcase takes place."
Ms Moss, though, acknowledged that the evolution of a Bahamian fashion industry, something Fashion Showcase - both in its present and former guises - was meant to promote, was going slower than planned. She attributed this to the difficulty budding designers and entrepreneurs had in accessing the necessary capital and financing.
"I think we're definitely seeing more activity and more encouragement coming from the local industry, the development of it," Ms Moss told Tribune Business. "But it's not as aggressive as one would have hoped.
"It's really driven by the lack of capital, as opposed to the lack of initiative and enthusiasm. There's just not the capital being put behind it, whether it be from the Government or the private sector, to allow entrepreneurs in the sector to really grow and develop."
Urging that micro credit facilities be made available to Bahamian designers, she said a fashion sector - even it its cottage industry state as it is now - could be "blended" with tourism and act as another attraction for enticing visitors to the Bahamas. It also tied in to downtown Nassau's redevelopment and creation of a 'living city'.
"When you ask what needs to get done, the ability to get such micro credit facilities and other things, to encourage designers and seamstresses to go one step further, is necessary," Ms Moss added.