THE Progressive Liberal Party is mourning the death of Brave Edward Davis, father of the party's deputy leader Philip Davis and a dedicated PLP member for more than 30 years.
In a statement issued yesterday, his son said: "Today I pay tribute to this giant of a man who mentored me to believe in the impossible.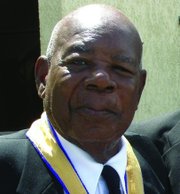 "His fight for equality and justice as a foot-soldier in the Quiet Revolution of the PLP enabled my generation to believe that great things come to those who work hard.
"It was his accomplishments as a son of Cat Island, stalwart in the PLP and as an ambassador in the tourism industry as a taxi driver that clearly demonstrated the traits of this man - kind spirit, quiet confidence, brave humility and Christian charity.
"These venerable qualities have shaped the lives of many around the world who came into contact with daddy.
"Today on his passing I salute his years of service to people and his commitment to build a better Bahamas for the next generation."
PLP leader Perry Christie also issued a statement, calling Mr Davis Sr "the epitome of courage and determination in the pursuit of our party's objectives."
Mr Christie said: "He was uncompromising in his commitment to the cause and always direct and candid in expressing his views. He was a proud Bahamian and a staunch PLP.
"A proud native of Cat Island, Brave was also for me a close and valued friend whose wise counsel I always appreciated.
"Although he never had the advantage of a good formal education, he was an exceptionally wise man.
"Brave was also an excellent example of a good and caring husband and father. He was especially proud of the accomplishments of all of his children.
"On behalf of my wife, Bernadette, the entire family of the Progressive Liberal Party, and on my own behalf, I extend my deepest condolences to Brave Sr's widow and his entire family, most especially his son, Philip "Brave" Davis, who is not only my deputy but one of my dearest friends and colleagues."