By CELESTE NIXON
Tribune Staff Reporter
cnixon@tribunemedia.net
THE NEED for major changes to public health care is a common theme this election season, with the FNM, PLP and DNA pledging to modernise the system and make it more accessible and affordable for all Bahamians.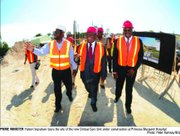 In the FNM's Manifesto 2012, the party said if re-elected, it will focus on priority health issues including: reducing child mortality, improving maternal health, combating the spread of HIV/AIDS, working to eliminate the conditions that contribute to the increase of communicable diseases like malaria and tuberculosis, and improving mental health services.
The FNM plans to launch a National Catastrophic Health Insurance Programme within three years, establish a National Cancer Register and National Blood Bank, and expand the Prescription Drug Programme to cover all workers and their families.
In the Family Islands, the FNM will seek to increase health care accessibility by making tele-medicine more available, and construct community hospitals in Abaco, Exuma, Eleuthera and Long Island.
The FNM also promises to provide incentives for Bahamian doctors and other health professionals to serve in the Family Islands.
To counter the growing epidemic of non-contagious diseases such as hypertension, diabetes, kidney disease and cancer among young people, the FNM has pledged to increase awareness and education on good eating habits and ensure school lunch programmes are healthy.
According to the manifesto, all community clinics will be renovated and upgraded so there is a single standard of primary health care across the country.
In the PLP's "Charter for Governance" the opposition said if elected, it will collaborate with the church, civil society, employers and trade unions to establish a more community-based health care system.
The party also promised to reform health care infrastructure to make it more efficient and reliable.
The PLP's plan also involves:
making all enclosed public places smoke-free

strengthening the country's capacity to address, control and prevent the spread of HIV/AIDS and other sexually transmitted diseases

upgrading and expanding the Sandilands Rehabilitation Centre

streamlining and computerising records and inventory to ensure critical drugs are in adequate supply and patient records are organised and accessible
The PLP promised to identify strategic clinics throughout the country which can provide diagnostics, day surgeries and other out patient services closer to where people live and work.
In the Family Islands, the opposition said it will create small regional hospitals in Eleuthera and Exuma and establish an appropriate medical air transport system.
The charter also said a health ombudsman will be appointed to monitor the delivery of services, investigate complaints and strengthen accountability.
According to the DNA's "Vision 2012 and Beyond", if elected the party will establish a basic health care plan which will increase access to "affordable quality health care" for Bahamians.
The party will also create a national education strategy to combat chronic diseases such as diabetes hypertension, obesity and cancer.
Resources will be allocated to medical research and teaching centres through innovative partnerships with noted health care facilities and practitioners, according to Vision 2012.
The DNA also promised to ensure that government facilities and services are accessible to every Bahamian regardless of physical disabilities, and pledged to develop medical tourism.
In the Family Islands, the DNA plans to increase local access to resources, including a wider selection of medicines.