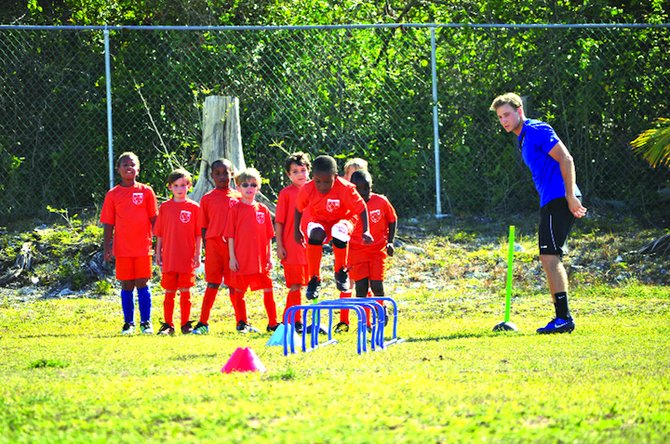 By RENALDO DORSETT
Sports Reporter
rdorsett@tribunemedia.net
FOR the second time this year, Happy Hall and his YESI organisation are hosting an edition of the "Happy Feet Soccer Clinic" for youth soccer players.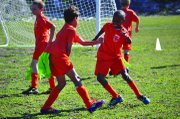 The inaugural camp was hosted in January at Goodman's Bay park. However, the camp has moved to its current location at the St Paul's Grounds.
And, in conjunction with the camp, YESI is slated to host Pro Trials 11am to 1pm on Saturday for prospective players seeking a spot on the Dayton Dutch Lions' roster in the Super 20 or PDL Leagues.
Players between the ages of 16 and 25 are eligible to vie for a a spot at the trials to be hosted at St Paul's.
The "Happy Feet Soccer Clinic," which concludes today, was conducted by Hall, his group of local coaches and technical director of the Dayton Dutch Lions, Cor Van Hoeven.
"The second camp seems to be more serious and focused than the first camp. It shrunk in size but it filtered out the quality because of what we are doing with the camps. We are doing serious drills, but incorporating fun as well. We have 90 per cent of the kids are the same group from last time and we brought in a few new players to go along with the scholarship kids," Hall said.
"You can see an improvement from the first camp to this one, and you can see an improvement in the new kids after just a week."
Hall, who has coached locally at Tambearly, Meridian and Lyford Cay School, said while the camps currently focus on players in the western portion of the island, he hopes to expand in the near future.
"Essentially, I want it to become perfected in the western area, functioning properly and once that happens then I want to expand to other parts of the island with Cor. I am hoping he can come down quarterly to do events," Hall said. "It's allowing us to filter out the better talents and the kids that we can see potential in from different schools and different areas. In the camp, we have kids from QC, St Andrew's, Lyford Cay, Meridian and a couple public schools. So what we want to do next is to have an "All-Star" team so to speak that can become a travelling team that YESI can sponsor so we can take them to different venues outside the Bahamas and play in tournaments and gain more exposure."