By NEIL HARTNELL
Tribune Business Editor
KERZNER International's completed $2.5 billion debt restructuring will pave the way to "a new take-off to even much greater heights" for its former Paradise Island properties, the minister of tourism and aviation believes, with the Government having all the Bahamian employment and tourism economy safeguards it wanted.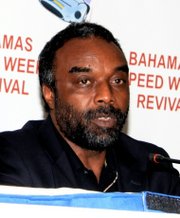 Speaking after the Atlantis and One & Only Ocean Club owner announced that a revised debt-for-equity swap had been agreed among and with its lenders, which will again see Toronto-based Brookfield Asset Management take over ownership of the two properties in return for forgiving $175 million in debt owed to it, Vincent Vanderpool-Wallace said he foresaw the arrangement as producing "only continued growth" on Paradise Island and, by extension, the Bahamian tourism government.
Confirming that the Ingraham administration had obtained all the guarantees it was seeking from Brookfield, Mr Vanderpool-Wallace acknowledged he had harboured "a great deal of concern" over Kerzner International's well-publicised recent debt problems, likening it - and the tourism industry's recent recession struggles - to "an aircraft carrier in very choppy waters".
"This is a new take-off to even much greater heights for this company," Mr Vanderpool-Wallace said of the debt restructuring conclusion's impact on Kerzner International.
"This property [Atlantis] really was the kind of the beginning of the turnaround of the tourism economy in the Bahamas. We see this as so important to what we want to do and in building the Bahamas' brand, which is why we've been so involved with Atlantis over the last several years to achieve the level of success we've seen."
Emphasising that it was vital for the Government that Brookfield's ownership 'takeover' was "seamless" and Kerzner's current Paradise Island management team remained in place, the tourism minister confirmed that "all of the substantial stuff is done" when it came to the necessary approvals for the transaction.
And, when questioned by Tribune Business on the issue, Mr Vanderpool-Wallace said Stamp Duty had been paid on the Atlantis/One & Only Ocean Club, although he was unable to specify precisely how much.
"If my memory serves me right, Stamp Tax has been paid, although precisely on what I'm not sure," the minister said. Court filings in the US state of Delaware had indicated Brookfield and the other lenders were deeply concerned about the prospect of a potential $300 million Stamp Duty liability, both on the real estate and assets of a business being sold, while many Bahamian realtors were also watching keenly to see if there were any such payments.
Echoing Mr Vanderpool-Wallace's words, George Markantonis, president and managing director of Kerzner International (Bahamas), emphasised the positive when it came to Brookfield's assumption of all the equity interest in Atlantis and the One & Only Ocean Club.
Hinting at Kerzner International's relief that the debt restructuring was now over, and that the cloud of uncertainty which had been hovering over Paradise Island was now lifted, Mr Markantonis said Brookfield had accepted the Government's terms "without hesitation".
These are to keep direct Paradise Island staffing levels at a minimum of 8,000; maintain annual capital investment spending at Atlantis at a $50 million minimum; and keep the resort's brand marketing spend at current levels.
"It is a wonderful thing for them to come back and say 'Yes, yes and yes'," Mr Vanderpool-Wallace said of Brookfield's response to the Government's terms. "They were quite welcoming and quite forthcoming on those conditions, which are quite beneficial for the economy of the Bahamas."
Kerzner International has also been given by Brookfield a "minimum" three-six year management agreement for Atlantis, and a 15-year agreement to run the One & Only Ocean Club, provided it meets certain performance targets set by the new owners.
Brookfield's acceptance of these conditions will give the governing Free National Movement (FNM) another piece of ammunition for their closing general election campaign, as the Government will now be able to say it has safeguarded all the jobs for those employed by Kerzner International's workforce and the wider economic interests of the Bahamas.
Tribune Business, though, understands that the latest - and seemingly final - version of Kerzner International's debt restructuring is slightly more complex than the Government, and both Kerzner International and Brookfield - have let on publicly.
While Brookfield has taken over 100 per cent ownership of the Paradise Island real estate, in terms of the physical Atlantis and One & Only Ocean Club properties, Tribune Business understands that at least two other lenders have also been brought on to the 'equity' side of the debt restructuring.
Real estate investment funds owned by two leading US-based private equity houses, TPG (the former Texas Pacific) and Centerbridge, now hold equity stakes in whatever entity will operate/manage both Atlantis and the One & Only Ocean Club. This arrangement, a change to the original Brookfield 'debt for equity' swap proposal, was worked out to bring all lenders - some of whom felt they were being disadvantaged - on board.
This likely means that they will be sitting around the Board table with Kerzner International, although it is uncertain who holds the majority interest here, and the extent of these funds' ability to 'call the shots' when it comes to running the resorts.
The decision to take an equity stake in the operating entity is a smart strategy for both private equity players, as its profits will likely be based on a percentage of the gross revenues (top line) generated by Atlantis and the One & Only Ocean Club.
That is the norm for brand/operator companies in the global hotel industry, and the percentage normally ranges between 2-5 per cent depending on the contract. And, as their profits depend on operations only, not the net, Kerzner International and the real estate funds will not be impacted by issues such as depreciation in real estate values.
In addition, Tribune Business understands that under the terms of the deal struck between Brookfield and the other Kerzner lenders, the 'securitised mortgage' loan they all held has been extended for some two-and-a-half years and will now mature in September 2014.
While the terms are likely to be slightly more favourable for those lenders remaining on the 'debt' side, in terms of a higher interest rate coupon than the original deal, the relatively short nature of the extension is likely to raise concerns among observers who believe Brookfield is likely to 'flip' the Atlantis and One & Only Ocean Club to another buyer as its exit strategy.
Both Mr Vanderpool-Wallace and Mr Markantonis, speaking to the media on Friday, were unable to give any insight into Brookfield's medium to long-term intentions when it came to the Paradise Island resorts.
"The owners haven't specified that they intend to leave next week, two years from now, 10 years from now," Mr Markantonis confirmed.
Mr Vanderpool-Wallace, too, said it was impossible for him to answer questions about issues that may arise "10 years' down the road".
By taking over physical ownership of the Paradise Island resorts, Brookfield - via its Brookfield Real Estate Fund (BREF) - has effectively replaced Kerzner International as the entity that will have to repay the other lenders the principal sum owed when it matures. Deducting the $175 million owed to Brookfield that is now 'forgiven' means that there is still likely to be around $2.3 billion-plus owed on the outstanding loan.
In the final analysis, the seeming conclusion to Kerzner International's debt restructuring benefits both it and Brookfield in the first instance. Sir Sol and his company, now transformed into a hotel brand/operator company, will be free from a 'debt mountain' to focus on what they do best, namely running resorts and developing iconic properties, while the Canadian asset manager has picked up properties valued at $3 billion for minimal outlay.
Some of its fellow lenders, too, are likely to feel they are now in position to benefit from the 'upside' potential on Paradise Island.
But it is hard - and too early - to tell whether the 'debt-for-equity' swap will, in the medium to long-run, work out in the best interests of the Bahamas, its tourism-based economy, and the resorts themselves and their employees.
Much depends on Brookfield's plans and the identity, and intentions, of any potential buyer they may sell the Bahamian economy's 'Crown Jewel' assets to.