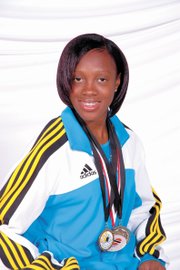 By BRENT STUBBS
Senior Sports Reporter
bstubbs@tribunemedia.net
LONDON, England — She is back for her second stint at the Olympic Games. But Sheniqua 'Q' Ferguson admits that she wishes she was at 100 per cent as she pursues a possible sprint double.
"So far, it's really good, but because Beijing 2008 was my first Olympics, it still ranks higher in my books," she said. "But it's still really nice. It's definitely different. But Beijing still tops my list. Maybe after the competition starts, I will see how it goes from there."
As a result of a nagging injury that prevented her from participating in the Bahamas Association of Athletic Associations' Scotiabank National Open Track and Field Championships in June, Ferguson and her coach Henry Rolle decided it would be best for her to skip the training camp that was held in southern England prior to the team entering the games village on Wednesday.
"It's almost a week since I've been here. I was in Auburn training, so it's kind of hard having to be in the village for so long before you start competing," she said. "But it's a good thing because you get to spend some time with the rest of the team and you get to play games like cards with the guys. So it's like you're relaxed trying to get your nerves down before the competition.
"So I'm just taking it in my stride, trying to get myself all geared up for the competition. I'm not as nervous, so I feel I should be okay by the time I get out there to compete."
Ferguson dominated her final year at Auburn University a year ago, and is now going through her transformation as a professional on the circuit. Her performance here will no doubt determine exactly what to expect from her when she launches her career into the next level. But for now, Ferguson said she's just trying to absorb the environment of being back at the Olympic Games.
"The biggest thrill for me so far was when I met Bill Gates on the streets," she said. "And I got a picture too, so right now that is my high point of this Olympic Games."
During a reception held by British High Commissioner Paul Farquharson, Ferguson and a few of the athletes were fortunate to walk outside and run into Microsoft founder Gates as he passed by in an entourage.
"He wasn't with no bodyguards. He wasn't in a car. He was just walking down the street and they were going to dinner," she said. "He stopped to talk and we got him to take a picture with us. It's was so amazing to see someone so big in life walking the streets of London and nobody was bothering him."
Although she was bothered by a hamstring injury, Ferguson said she was looking forward to making her second appearance at the games and it's just a matter of time before she and Rolle make the final decision on whether or not she will compete the double.
"The 100 comes first, so I would like to run in that because you never know what will happen after that," she said. "So I'd rather do the 100 and if I can still do the 200 after the 100 is over then I will do it. I just don't like to sit down and wait until after the 100 to do the 200 because I could be training out here and something happens and I don't get to do the 200. So I'd rather get out of the blocks the first time around, which is the 100."
And while the coaching staff still have not decided on the final six competitors for the Women's 4 x 100m pool, Ferguson said she hoped that her name was one of those called.
"We did our relay exchanges and it went pretty good," she said. "So right now, it's all about the coaches deciding who the six will be. I think we will have a good time regardless of who is selected."
And if she's not given the nod, Ferguson said she will still throw her support behind the team because "it's all about the Bahamas right now. If there is someone running faster than me, then I think they deserve to run. But if I'm healthy and running faster, then I think I should be included. But it's up to the coaches to decide who they want to run. I will go with it, whoever they decide to select."