By NEIL HARTNELL
Tribune Business Editor
nhartnell@tribunemedia.net
The Trades Union Congress (TUC) president yesterday gave conditional backing to oil exploration in Bahamian waters, adding that his organisation and the unions under it were prepared to buy shares in the Bahamas Petroleum Company (BPC).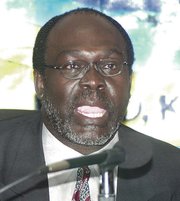 Speaking to Tribune Business following BPC's presentation to the TUC last weekend, attorney Obie Ferguson told Tribune Business that provided the appropriate environmental safeguards and best practices regulatory regime were in place, oil exploration in Bahamian waters was "not a bad idea".
Mr Ferguson said that if BPC lived up to its presentation, the TUC would "certainly support" its exploration activities, given that the billions of dollars' worth of income projected could "transform the Bahamian economy overnight".
"I think the report they made was very interesting, and based on what they presented, if they comply with the environmental conditions, and satisfy the Government on the various best practices, it seems to me it [oil exploration] is not a bad idea," Mr Ferguson told Tribune Business.
"They indicated they've spent in excess of $50 million so far preparing for the exploration, so from where we stand we're open to further discussion with them in terms of making a final decision as to whether this moves forward or not.
"It seems to me that if these projections - billions of dollars - and safeguard measures are put in place, we'd certainly support it."
Acknowledging that finding commercial quantities of oil in Bahamian waters, which were also extractable, remained "a big if", the TUC president said BPC seemed extremely confident they would find this.
With BPC still looking at a Bahamian Depository Receipt (BDR) offering to local investors at some point in the 2012 third quarter, Mr Ferguson said the TUC and its members were interested in "getting in on the ground level" by purchasing some of these shares.
"What we're trying to do with the TUC is expand on partnerships and things we own, and we're going to look at buying shares in this venture if everything goes well. I don't see any reason why not," Mr Ferguson told Tribune Business.
Asked about the potential impact of BPC's activities if everything went well, the TUC president added: "It's significant, quite frankly.
"You're talking about billions of dollars for a population of under 400,000. With that kind of injection, it could have a tremendous impact on the education system, the healthcare system of our country. It could transform the Bahamas overnight.
"It's a big if, but like anything else you need to explore it. I'm sure they [BPC] have a number of scientists that understand the situation. They seem very optimistic, and you don't spend $50 million unless there's some possibility of finding what you think you'll find."
Mr Ferguson said the BPC presentation was part of an overall TUC thrust to seek out joint venture partnerships and ownership opportunities for its unions and members, given the ongoing weak economic environment.
"It can't be business as usual. Things change," he added. "If you're going to try and conduct business as usual, you're going to have some difficulty."
BPC's presentation to the TUC said the Government could earn a collective $30 billion in royalty income during "the first 10 years of production" if projected quantities of oil are discovered in Bahamian waters.
BPC said its activities over the next two years - if they were allowed to proceed and it discovered the commercial quantities of oil forecast - "could help rebase the Bahamian economy".
Noting that there was time to train Bahamians for the jobs that may be created, BPC said that based on there being two billion barrels of oil in Bahamian waters, production would take place over three stages.
The first would involve drilling 15 wells, with production set to peak at more than 72 million barrels per year in the first year.
Explaining that this initial phase was designed to provide BPC with some income to offset development costs, the company said the second phase would involve a further 21 wells.
And production, according to BPC's presentation, would peak at over 160 million barrels per year during the sixth-seventh years of drilling, encompassing a third development phase.
The TUC presentation showed that the Government would start earning royalty income, some 12.5 per cent of each barrel extracted, in the third-fourth year of BPC's activities if exploration proved successful.
Tribune Business was yesterday told that the royalty rate starts at 12.5 per cent, but it was based on a sliding scale that increased to 25 per cent as output/production ramped up. BPC said its projected production rates would "quickly put the Government at 25 per cent".
Collective royalty income, forecast as being between $3-$4 billion per year, was set to hit $30 billion over the 10-year period between the fourth and 14th year of BPC's work, the company projected.