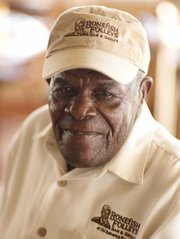 By CARA BETHEL
LEGENDARY fisherman and cultural icon Bonefish Folley has died at the age of 91.
Born Israel Rolle, Bonefish Folley was a local celebrity in West End, Grand Bahama, where for more than 60 years he delighted in taking his clients on bonefish tours. Considered the master in his field, he appeared on numerous television shows and documentaries and has been featured by National Geographic.
He was also the inspiration behind the hit Bahamian song "Bonefish Folley" by Phil Stubbs in which Bahamian children sing "Bonefish Folley, he's so meek and lowly, Bonefish Folley he's the one and only."
According to his youngest son Tommy, Mr Folley died on Thursday afternoon just after 5pm and was discovered by one of his grandchildren. He would have turned 92 next week.
"I think everyone knew how genuine, upfront and well mannered a person my father was. He was very easy going and well liked in the community. He was a good ambassador for the country."
Tommy said the family will be gathering this weekend to make funeral arrangements. Mr Folley is survived by his wife, Millis (nee Nixon), and eight children – five sons and three daughters.
Speaking with The Big T yesterday, Obie Wilchcombe, Tourism Minister and MP for West End and Bimini, said he was honoured to have known Mr Folley both as a constituent and through the role he played in the development of tourism in the country. Mr Folley was a Cacique Award winner for his tourism contributions.
"He was by far one of the best ambassadors of this country that we have ever had. He was a unique and special brand of Bahamian. In his lifetime, he was able to meet and greet some of the most outstanding people in the world and he helped to develop the brand and name for West End. He built quite a reputation for himself and the country that will live on in his children who are following in his footsteps. He was a wonderful man and I had the great privilege of knowing him," the minister said.
Bonefish Folley made quite an impression on his clients, developing personal relationships with many of them who often returned to visit him. His client list is impressive and includes such names as the late Dr Martin Luther King Jr, former US president Richard Nixon, the late Prince Rainier of Monaco, author Ernest Hemmingway, actors Robert Taylor and Curt Gowdy, and actress Lana Turner.
He also developed a special relationship with former US ambassador to the Bahamas John Rood, who first met Mr Folley as a young boy visiting the island with his father. In 2004, when Mr Folley's home was destroyed by Hurricane Frances, Mr Rood stepped in and arranged for a new home to be built for him.
Foreign Affairs Minister Fred Mitchell said he remembers when Mr Rood contacted him in 2004 about Mr Folley. "He came to me and said that he wanted me to accompany him to West End to meet Mr Folley, whom he remembered so fondly from his childhood. So we went together and when he saw the condition of the house, he offered to build him a brand new house. That was the depth of the fondness of the relationship that he had with Mr Folley. I thought that it was a great gesture. He was a great ambassador for this country and it is a great loss.
"And on behalf of the Ministry of Foreign Affairs, I offer our deepest condolences to his family."