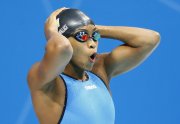 By BRENT STUBBS
Senior Sports Reporter
bstubbs@tribunemedia.net
LONDON, England — She gave it a gallant effort, but Arianna Vanderpool-Wallace's bid for a medal in the Bahamas' first Olympic Games final in swimming ended up with an eighth place finish in the Women's 50m Freestyle.
She clocked 24.69 seconds, well below her qualifying time of 24.64 as the final day of competition came to a close at the Aquatics Centre on Saturday and the action started to heat up at the Olympic Stadium where sprinter Sheniqua 'Q' Ferguson bowed out of the Women's 100m semifinal, while Derrick Atkins got promoted to the Men's 100m semifinal and Warren Fraser got eliminated in the fist round.
Also, the three quarter-milers national champion Demetrius Pinder, national runner-up Ramon Miller and veteran Chris 'Fireman' Brown kept their hopes alive as they challenged for glory in the Men's 400m.
VANDERPOOL-WALLACE
GAVE IT HER ALL
In what was a keenly contested fitting finish to her second appearance at the games, Arianna Vanderpool-Wallace touched the wall in 24.69 seconds as Saturday's action got started and the Bahamas wrapped up its bid for swimming glory.
However, the 22-year-old NCAA champion from Auburn University lost out of a top spot midway through the race that saw Netherland Antilles' Ranomi Kromowidjojo post her second sprint double in another Olympic record time of 24.05.
"It was a good race. I went in there as confident as I could be. I came eighth in the Olympic final, so I don't have anything to frown about," said Vanderppool-Wallace, who delighted the Bahamians when she lowered her national record in winning her heat of the 100 free before she ended up fifth in the semifinal. "I think I kind of over thought the race a bit and I kind of let it go after I came off the blocks. But it's a learning experience, my first time ever in an Olympic final. So I'm pretty happy with what just happen."
FERGUSON ALMOST
THERE
With this being her second time around at the Olympics, Sheniqua Ferguson was hoping for at least a personal best in the Women's 100m on Saturday or maybe even a spot in the final. She ran 11.32 seconds for seventh in the second of two heats that was won by Jamaican Olympic champion Shelly-Ann Pryce in 10.85 over American Allyson Felix (10.94) and World Championships' bronze medalist Kelly-Ann Baptiste (11.00) from Trinidad & Tobago.
"It was better time wise than yesterday, but I'm still disappointed that I didn't get a PR or made it to the final," said Ferguson. "I'm kind of disappointed right now. I just want to get back to the warm up track and talk to my coach.
"I felt I had a better start than I had yesterday, but I feel it's just a lack of competing. I didn't do much races this season. I think that's where my downfall was. So just have to take it. I just thank God I finished the race without any injury."
Ferguson, 22, will just concentrate on the Women's 4 x 100m Relay where she feels the Bahamas have an excellent chance of getting back to the glory days of the Golden Girls when they competed neck and neck with arch rivals United States and Jamaica.
PINDER RUNNING WITH A
HEAVY HEART
While in preparation for his debut at the Olympics, Demetrius Pinder got word that his very close sister Claudia passed away. Unable to leave London for the funeral that was held last weekend, Pinder said he was running in her honour.
In the fourth heat of the 400 on Saturday, 23-year-old Pinder ran away from the pack early then shut it down with about 150 metres left as he periodically looked back to check on his rivals as he cruised across the finish line in 44.92.
"Today was a cruise for me," said Pinder when asked by the media if he felt he had taken his race out too fast. "I just got out in a comfortable position and with about 150, I decided to shut it down and take it home in an easy pace."
Running out of lane two, Pinder said he knew had to go out and set the pace and that was what he did.
"Coming off first in lane two is major. To be able to do that, leaving guys in lane seven way behind me is impressive," he said. "I believed in God and I knew that he was going to pull me through."
He also knew he had an angel in his sister rooting for him as well.
"I just lost my sister, I'm just using her for strength," he said. "She's been very dear to me. I will really miss her. But this one is for her."
Pinder's time was the third fastest qualifying.
BROWN MAINTAINED
PACE
He got out with the pace and Chris Brown made sure that coming down the line at the finish, he was going to be right in the mix. He ended up winning heat five in 45.40 for the 12th fastest qualifying time on Saturday.
"It was pretty good. I give God all praise and all credit," he said. "It's been a while and I needed to get the jitterbugs out of the way," he said. "So I feel pretty good and I wish God will continue to do his work in me and take me through the rounds."
As for the race, the 33-year-old quarter-miler from Eleuthera who was still looking for his first individual medal in his fourth appearance at the Olympics, said the race was pretty good, although he felt he got out a little slow.
"I wasn't aggressive because no one was in the front of me and I had to change my whole race strategy," he said. "Then coming into the 200 metres, we had a strong head wind and I had to fight coming home a little bit."
But as he moves on, Brown said he was comfortable and he was going to take one round at a time.
MILLER HAD TO BATTLE
BACK
After falling behind in heat two of the Men's 400m opener on Saturday, Ramon Miller had to storm back coming down the home stretch to secure second spot in 45.57 behind reigning IAAF World champion Kirani James from Grenada, who shut it down with about 50 metres as he crossed the line in 45.23.
Miller's time was the 20th best, but he admitted that he was just getting ready to run.
"As you can see, I'm taking it one round at a time," said the self-coached quarter-miler. "That one was just to get the cobwebs out because I haven't raced in like six weeks. So I just wanted to do what I had to do."
Although this was his first Olympic appearance in the one-lap race, Miller said he had gained some valuable experience and exposure competing at the World Championships, which he hope to rely on to pull him through here.
25-year-old Miller contested heat three in lane eight in the semifinals. Included in his heat was Kevin Borlee, one half of the Belgium's twin brothers, who won his heat in the seventh fastest time of 45.14.
One note of interest, American Olympic defending champion LaShawn Merritt pulled up on the back stretch in heat six and wasn't able to finish, which left the door open for the Bahamian trio as well as the Men's 4 x 400m Relay team in their quest to challenge the United States for gold this coming Friday.
ATKINS MOVES ON
In his opening round on Saturday morning, Derrick Atkins trailed American Justin Gatlin through the line in 10.22, tied with three others for the 22nd spot. Gatlin won in 9.97 for the second fastest qualifying time.
Atkins, 28, ran out of lane eight in the last of three heats in the semifinals. Included in his heat was double IAAF World Championships sprint champion Yohan Blake of Jamaica in six and former world champion and former world record holder Tyson Gay of the United States in four.
The first two in each heat and the next two fastest times moved on to the final.
As he moves on, the 2008 IAAF World Championships' silver medallist in the century said he knew that it was going to get tougher.
"This was just to get rid of the cobwebs, but I know I have to step it up a notch if I want to get into the final," said Atkins on Saturday, the national Bahamian record holder at 9.91 seconds who got his first individual and the Bahamas' only global medal in the race to determine the fastest man on the planet.
"I'm just getting ready, getting mentally prepared for it. I'm just trying to get myself back out there again. So I was pleased with my performance today. Now it's time to go. I'm just so glad that I can get to represent my country again at the greatest stage in the world."
FRASER GLAD FOR THE
EXPERIENCE
He expected a little bit more, but Warren Fraser knows that his time is coming soon to shine as long as he stay away from the injury bug that has severely affected his siblings from progressing to this level over the years.
On Saturday the 21-year-old Clemson State standout didn't run close to his personal best of 10.18 that qualified him for his first Olympics. His time of 10.27 in the last of seven heats placed him fourth and he ended up with a ranking of 29th in the world.
"The race felt good to me. I came out pretty fast. I was up there for about the first 50, but when they start pushing, I kind of faded off at the end," he said. "But I just thank God for the opportunity to run. This is so late in the season, but I feel so good.
"Next year is going to be a different story. It feels good running against that crowd out there. I felt the adrenaline pumping. It was crazy. It feel like I need to be out here every Olympic year and that is what I'm going to do."
If he had to take anything away from his race, Fraser said it would have been the fact that he wasn't as relaxed coming down the stretch. But it was a learning experience and after coming out of it healthy following a long collegiate indoor and outdoor season, he hopes to get ready for the 2013 world Championships.