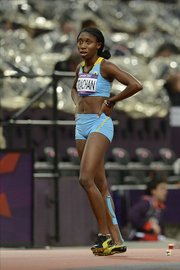 By BRENT STUBBS
Senior Sports Reporter
bstubbs@tribunemedia.net
LONDON, England — Anthonique Strachan is being dubbed here as one of the "future era" of female sprinting, not just in the Bahamas, but on the world scene. For now, she has to go through the growing pains to get there.
Fresh off her dominance of the IAAF World Junior Championships last month, Strachan's debut at the 2012 Olympic Games came down to a fifth place finish in the semifinal of the women's 200 metres on Tuesday night. Her time of 22.82 seconds came in the first of three heats that was won by defending Olympic champion Veronica Campbell-Brown from Jamaica in 22.32 over American Carmelita Jeter, who did 22.39.
Although she ended up tied for 15th overall with Evelyn Dos Santos from Brazil, Strachan said she was delighted just to have been afforded the opportunity to compete on the biggest stage on the planet.
"I didn't get the start that I wanted, as good as yesterday (in the heats)," Strachan said. "To me, it was good because I still gained the experience and that is something nobody can take away from me. I'm really not upset with not making the final because making the Olympics alone is one of the greatest experience that I will ever make in my track career.
"Tomorrow (today), I will come out and watch the finals and cheering for Shelly-Ann (Fraser-Pryce) and Veronica (Campbell-Brown) because I love them two the most, and also (Carmelita) Jeter. So I will be watching with one eye open because it's still going to be very exciting for me even though I won't be a part of it. I'm really proud of myself."
After getting left behind out of the blocks with a shaky start, Strachan managed to make up some ground coming off the curve. But on the straight away, the top runners took it to another level and Strachan wasn't able to power back like she has done so many times to win at the junior level.
"The race, whether it went according to plan or not, whenever the gun man says on your mark, whatever you planned was history," she said. "It went how the race usually goes and that's up to God. As far as I'm concerned, everything happens for a reason and if I was to make it to the final, it would have been God's plan. But I didn't, so it isn't his plan. Whenever it's his plan, I will make it.
"I'm very young. I have many more Olympics to come and to go and so to gain the experience at the age of 18, I'm very excited about it."
Strachan came into the games slightly hurt, nursing her Achilles tendinitis, but she was prepared to run through the pain.
"My leg will forever be hurting while I'm running on it," she said. "That's the sport. The sport comes with injuries. Nobody wants injuries, but it happens. I still have the relay to go, so I will get treatment tonight and tomorrow and run the relay the day after."
As for running against the field of top notch competitors like Fraser-Pryce, Campbell-Brown and Jeter, Strachan said it comes with the territory and the exposure she got from the two rounds here will only be able to help her as she gets ready for her full transition to the international scene in the future.