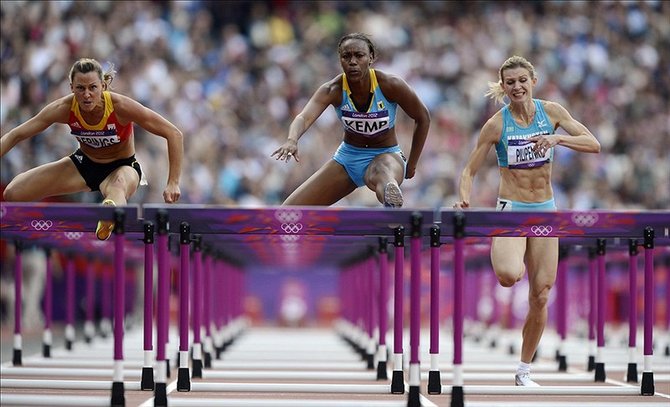 By BRENT STUBBS
Senior Sports Reporter
bstubbs@tribunemedia.net
LONDON, England — Ivanique Kemp didn't have a technically sound race and wasn't able to catch the field as she failed to get out of the semifinal of the women's 100 metres hurdles during another packed session in the Olympic Stadium last night.
Despite the performance, the Bahamian national record holder said she was still pleased with her debut at the 2012 Olympic Games.
Kemp, the 21-year-old junior at the University of Arkansas, clocked 13.56 seconds for ninth in the second of three heats Tuesday night that was won by Australia's 25-year-old world champion Sally Pearson in a season's best of 12.39, the fastest qualifying time.
Canada's Jessica Zelinka took the second automatic spot in 12.66 and American Lolo Jones got in with the seventh fastest time with her third place in 12.71. Both are 30 years old.
Kemp ended up 22nd out of a field of 24 competitors. The last two competitors were disqualified.
"It was okay I guess. It was a bit rocky with arms just swinging all over, but it was an okay race," she said as she came into the mixed zone.
After enduring what she called a long collegiate indoor and outdoor season, Kemp said she expected to run faster than she did, but she will accept the outcome and move on to next year when she hopes to be in a better position to compete with her rivals.
"I'm still okay with the time," said Kemp, who noted that she wasn't affected by the freaky weather that saw the rain start to fall as her race got underway, but stopped after she was finished. "I'm just a little tired from running in a long season."
As for the heat she was in, which also included American Lolo Jones, the 30-year-old American who had to settle for third in 12.34 to qualify on time in the seventh spot, Kemp said her confidence was boosted because she now knows that she can run with them.
"But I'm still a baby compared to them," she said.
Looking at her race, Kemp got out late and wasn't able to make up the difference over the 10 hurdles to remain a contender. She seemed to be more concerned about just getting through without any problems.
Earlier in the day, Shamar Sands tumbled over the seventh hurdle and was unable to complete the race as he was disqualified in the first round. Sands, by the way, had a picture of his tumble posted in the evening edition of a local newspaper.
Kemp said her performance showed that she still has a number of things to correct. But once she does that, she's going to be in a better position to challenge her rivals. "Technically I have to work on a lot of stuff like my arms moving up and down," she said.
And just how soon does she feel she will be able to get back to the global scene?
She indicated that the IAAF World Championships in Moscow, Russia, in August 2012 is "most definitely" her next appearance.