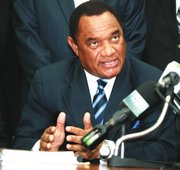 By NATARIO McKENZIE
Tribune Business Reporter
nmckenzie@tribunemedia.net
THE overall fiscal deficit for the ten months to April widened by 27 per cent in comparison to the same period during the previous fiscal year according to the Central Bank's monthly economic and financial developments for June.
According to the bank, the overall deficit for the ten months to April widened by $55.6 million, compared to the corresponding period of the fiscal year 2010/11, as total outlays firmed by $110.0 million or 8.1 per cent to $1,463.8 million, outpacing a $54.4 million or 4.7 per cent gain in revenues to $1,202.3 million.
Prime Minister Perry Christie told Tribune Business yesterday: "As a new government coming in we are constantly reminding ourselves of the importance of fiscal prudence. What is important however is that we have to cause things to take place.
"We came in with two major priorities, to deal with crime and the jobless. With relation to the jobless and the economy we have been working assiduously to try and put in place a level of confidence for developments to proceed.
"We have indicated that things are happening in Bimini and parts of Eleuthera. We know that we are in process of doing some things for Grand Bahama and other islands and we are just now waiting for a response to positions we have adopted.
"We are working and firing on all cylinders. We are  going to remain optimistic that we will in fact be able to start creating jobs and have some kind of sustained approach to it," Mr Christie said.
The Central Bank revealed that tax collections grew by $17 million or 1.6 per cent to $1,062.9 million, reflecting primarily an increase in international trade taxes, by $114 million (23.6 per cent), as the receipt of arrears payments by a public corporation led to a 71 per cent surge in excise taxes.
Similarly, a timing-related advance in licence fees contributed to growth in business and professional fees, by $4.7 million (5.2 per cent). In a modest offset, other "miscellaneous" tax collections fell by $89.5 million (20.7 per cent) to $343.0 million, following the prior period's extraordinary boost of stamp taxes, related to the sale of a local oil company.
In contrast, non-tax receipts improved by 36.8 per cent ($37.5 million) to $139.4 million, supported primarily by one-off capital revenues related to an asset sale. On the spending side, current outlays rose by $40.3 million (3.5 per cent), led by a $46.8 million (20.3 per cent) hike in purchases of goods and services and a more muted $13.6 million (3 per cent) increase in wages & salaries.
Transfer payments fell by $20.1 million (4.2 per cent), due to contractions in both interest payments and subsidies by 8.1 per cent and 2.1 per cent. Capital outlays firmed by $22.0 million (15.5 per cent) to $163.9 million, owing mainly to a $14.8 million (12.8 per cent) rise in infrastructure spending and a $6.9 million (29.7 per cent) increase in asset acquisitions. In addition, increased assistance to public corporations led to a doubling in net lending, to $89.6 million.
According to the Central Bank, preliminary indications are that "the domestic economy maintained a mild growth momentum" in June, supported by gains in tourism sector output along with ongoing public sector and foreign investment-led construction activity." "In the fiscal sector, the overall deficit deteriorated over the ten months to April, as higher expenditures outpaced an increase in revenues. Monetary developments featured a modest expansion in bank liquidity, which remained at record levels, and a slight uptick in external reserves," the Central Bank reported.
Domestic inflation firmed by 1.2 percentage points, to 3.1 per cent, over the twelve-months to May 2012. This outturn reflected significant growth in transportation costs, which firmed by 7 per cent compared to a 5.2 per cent advance a year earlier according to the bank.