By CELESTE NIXON
Tribune Staff Reporter
cnixon@tribunemedia.net
A DEVASTATED woman is demanding answers after losing her baby in what she claims was a nightmare experience at Princess Margaret Hospital.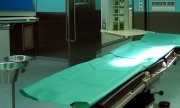 The woman, who wishes to remain anonymous, claims she was made to wait on a ward for two days after childbirth was scheduled to be induced, that her fears of complications were ignored, and when the situation did finally become critical, she was abandoned as doctors went to deal with another emergency.
Perhaps the worst part of her ordeal, she said, was the fact that no one would give her a straight answer about the fate of her baby when she woke the next day, and none of the doctors who dealt with her ever came to offer their condolences.
The woman said her ordeal began on July 25 when, due to the fact that she was more than two and a half weeks overdue, she was scheduled by doctors to be induced.
She said she spent all that day – from 9am to 5pm – waiting for a bed, and when she finally got one, the procedure still was not carried out that night.
"The next morning, a doctor said the labour ward was full, he asked me if I wanted to stay or come back the next week. I told him I was supposed to be induced the day before and I wanted to stay," she said.
Finally, at about 10 o'clock the next morning, July 27, the procedure was carried out. Her water broke that night at 7pm, but still the hospital staff took no action, the woman said.
She said: "I was sitting there in pain and they didn't do anything. I was not dilating. I became worried and asked for a C-section, but the doctor said everything was fine.
"The next morning I was told I'd go to the labour ward around 2pm. I was still only four centimetres dilated, not the 10 that was needed."
The woman said she knew something was wrong.
"Everyone else who was induced that day (three others) had babies already and were recovering.
"I was in a lot of pain; it felt like more than I should be going through," she said.
The woman again asked for a C-section, and again was told everything was fine.
Then, just after midnight on July 28, the baby's heartbeat began to slow down, she said.
At 1am, the doctors, including those who denied her requests for the operation before, rushed to schedule an emergency C-section.
The woman said she was prepared for the operation and when she was taken into the operating theatre at 1.47am, the baby's heart was still beating.
"They put me to sleep. When I woke up I asked the nurse when I could see my baby. She told me: 'As soon as you get a bed, we'll roll in the baby'.
The woman said she had to find out that her baby had died from a relative who works in the hospital.
She said no doctor spoke to her until 9am – more than two hours after she woke up, and what he had to say was devastating.
"The doctor said after they put me to sleep, they had another emergency and left me.
"By the time they got back, my baby had died."
The woman said the records show the baby was born at 2.56am, meaning she was left alone and unconscious for about an hour.
Days after the tragic incident, the woman said she is still in shock.
Speaking of her experience at Princess Margaret Hospital, she said: "I'll never go back. I will go private next time.
"I think the government should do a better job with the hospital. You hear about so many careless cases."
The woman added that PMH in general and the emergency section in particular, is in desperate need of better staffing.
She said she feels the hospital gives too many responsibilities to junior doctors and interns, instead of experienced practitioners.
The Public Hospital Authority was contacted for comment, but issued no response up to press time last night.