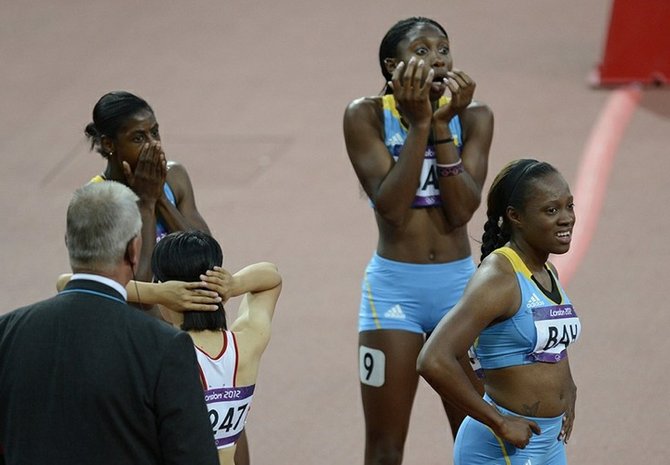 By BRENT STUBBS
Senior Sports Reporter
bstubbs@tribunemedia.net
LONDON, England — The team of Sheniqua 'Q' Ferguson, Chandra Sturrup, Christine Amertil and Anthonique Strachan ran a season's best of 43.07 seconds, but a slight fumble on the third exchange may have been the difference with them getting into the final of the women's 4 x 100 metre relay.
Amertil and Strachan both admitted that their connection could have been a little more smoother and possibly move them up from sixth to at least fifth place, which was occupied by Nigeria as they qualified with the eighth and final spot in their season's best of 42.74.
The heat was so fast that every country above them had an asterisk behind their name, other than Q (qualifier).
The United States led the way with 41.64, a SB; Trinidad & Tobago got second in 42.51, a NR (national record); the Netherlands Antilles was third, 42.45, a NR as well and Brazil was fourth in 42.55, a AR (area record).
The Bahamas ended up tied for ninth with Poland, who was fourth in heat two. Ukraine won the heat in 42.36 over Jamaica, who did 42.37, both SB times. The third qualifier out of their heat for the final was Germany in third place in 42.69.
As the Bahamian women came into the mixed zone, they had mixed reactions as they waited patiently for the final results to be posted.
"I think we had a good race today," said Sturrup, fresh from not having competed in the women's 100 this time around. "I thought I ran a pretty good leg and was hoping that we would have made it back to the final. But I guess we didn't.
"It was sad that we didn't do it, but I worked with the girls in practice and we had some pretty decent exchanges, so we're confident with each other. "
Getting the team out of the blocks on her pop off leg, Ferguson said she went out and gave it her all. "That's all I wanted to do," she said.
As for the time, she noted that "a season's best, you can't really complain about that. But we're watching the TV to see if anything happened because we're in ninth and anything could happen and we could make it to the final where somebody is DQed (disqualified)."
When it was realised that they didn't qualify, Ferguson said she was proud of her team-mates because it was virtually a "new team, so I was proud of every leg. We went out there and represented our country. We didn't know what the team was going to be like until today, so when the decision was made, we put all of our hopes in each and we put our trust in each other."
For Amertil, making her comeback after taking a year off to have a baby, she too was impressed with their performance.
"We got the stick around, which was the most important thing," she said. "Like Sheniqua said, we ran a season's best, so we're very pleased, even though we are still waiting to see if we will get in. But I'm proud of each one of these girls. We went out there and ran very hard."
On the exchange between her and Strachan, Amertil said "it wasn't as good as it could be, but we brought the stick around and into the finish line. It's still that we can work on, but we got the stick to the finish line. That's stuff for us to work on."
And Strachan, the 18-year-old IAAF World Junior Championships' double sprint champion who made it to the semifinal of the 200 here in her Olympic debut, said they all went out there and gave it their best shot, regardless of not making it to the final.
"It's still a good run and I'm very happy with what we went on to do. It's a learning experience," she said.
It was the second major global meet that the Bahamas failed to get into the final. Last year at the IAAF World Championships in Daegu, South Korea, the team of Ferguson, Sturrup, Nivea Smith and Strachan fell short in the heats.