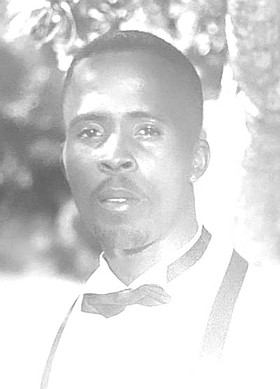 Shawn Hanna Sr
unknown - unknown
Funeral service for the late Shawn Hanna Sr. age 46 Years of # 4 Trinidad Ave, Elizabeth Estates will be held on Saturday, March 7th, 2020 at 11:00 a.m. at Voice Of Deliverance Church, Deliverance Way, Malcolm Allotment. Officiating will be Chief Apostle Leon Wallace assisted by Other Ministers of the Gospel. Interment will follow in Woodlawn Gardens, Soldier Road.
He was predeceased by his Father: Leatendore Hanna
Left to mourn and cherished his loving memories are Wife: Tameka Hanna; Children: Shakil, Shawn Jr. and Shawneka Hanna; Grand Children: La'Miah Johnson & Milani Oscar; Beloved Pet Dog: JoJo; Mother: Elder Rosalind Smith; Stepfather: Melbourne Smith; Brothers: Kerry (Lounice) Evans, Shelton Smith, Police Officer #28 Larry Collie; Sisters: Jennamae Russell, Judy (Henson) Prosper, Shannette (Lester) Mackey, Shandy (Anthony) Evans, Angela Hanna, Sam Allen, McQuell (Neil) Bryan, Charlene Collie, Kim Minus; Uncles: Neville Clarke, Bennette (Alva) Knowles, Carlton Hanna; Aunts: Dorothy (Alexander) Walkes, Thelma Porter; Mother In-Law: Julie Richards; Father In-Law: Harcourt (Nola) Brown; Grandparents In-Law: Evelyn Whylly, Hilbert (Margaret) Richards; Sisters In-Law: Sonia Moree, Juanita (Ashton) Bullard, Nathalia Durham, Ulinda Curry, Lashane (Julian)Taylor, Chrissy Morgan; Brothers In-Law: Joseph, Tracy & Christopher (Faith) Brown; Nieces: Dorothea Rahming, Deara & Charity Russell, Maliania Dean, Tanya McQueen, Bernizar Prosper, Brittney & Shantae Mackey, Shanton Evans, Sheltia & Leah Smith, Royanne Armbrister, Tenneil Bryan, Ruth Minnis, Ashtonique & Ashley Bullard, Chavante Smith, Justice Colebrook, Nephews: Kevin Evans, Uriah Russell, Lester Jr. Mackey, Anthony Jr. Evans, DeAngelo Armbrister Sr, Lamar Hanna, Isaiah Bryan, Juanathan Richards, Brieon Smith, Brandawn Thompson, Ian Hanna Jr, Lavardo Butler; Grand Nieces & Nephews: Elisa & Elijah Barr, Ethan Russell, La'Quonia Evans, Antonio Jr, Demetrio & Antwoniqua Dean, Jataisha Prosper, Trenton, Trentaisha & T'Aisha McQueen, Kaymiah Carey, DeAngelo Jr & DeAndre Armbrister, Lamar Hanna Jr, Rotreasure Butterfield, Angel Sawyer, Mia Smith; Great Grand Niece: Jaylah Charlow; Cousins: Agatha Bowe, Elcid & Alesa Evans, Florence Walkes, Joan & Hugo Pratt, Christine & Gary Hanna, Natasha & Lorence Evans, Cynteish Walkes, Sgt Ricardo Walkes, Beaulah & Oswald Laing, Ngaio Hinsey, Fredina Scoules, Jen, Stevie & Wade Russell, Dianne, Luann, Willadale, Joshua, Maria, Solomon, Philip, Jonathan, Shadrack, Anthia, Leroy, Debra, Kasey, Moesha, Falon, Shawn, Nikita, Tyrone, Shavorn & Benneka Knowles, Thomas Porter Jr, Viola, Ruthnell, Inspector Sybrina & Cyprianna Porter, Peggy Antonio, Agatha Williams, Lawson, Shane, Tyrone, Kendrick, Carl Knowles, Shalinqua, Krizia, Demetria, Craig, Greg, Cradesha, Ej, and many others too numerous to mention. A host of other relatives and friends including: Miracle Convention Cathedral, Commonwealth Mission Baptist Church, Pilgrim Ministries International, Jermaine Symonette, The Gardiner Family,Voice of Deliverance Family, Former Governor General A.D. Hanna and family, M.P Glenys Hanna-Martin, E.R. Hanna & Family, Leon, Nelson & Whyoine Symonette, Frankie, Jason Darling, Cardie, Shawn, Jeff Collie & Family, The Munroe Family, The Gibson Family, Jodine Toote & Family, Elvis, Valerie, Nancy & Juanita Percentie, Elizabeth Mingo, Joanne Hamilton, Tanya Strachan, Blossie, Monique, Barbara, Carolyn, Carletta, Portia, Maquel, Marissa, Angelisa, Shanell, Bruce, Hillory, Delano, Javone, Fabian, Michelle, Brian, Kesha (Craig) Martin, Ed, Tandrea & Anishka Morley, St. Thomas More School Family, Carla Lotmore, Carol Clarke, Geran, Vaughn, Felix, Glen Woodside & Family, Clayton, Kenrick, Niochie Ewing, Basil, Clinton, The Nassau Village Family, R.M Bailey School Class of 1989 and many others too numerous to mention.
Viewing will be held in the Serenity Suite at Restview Memorial Mortuary and Crematorium Ltd., Robinson and Soldier Roads on Friday from 10:00 a.m. to 6:00 p.m. and at the church on Saturday from 9:30 a.m. until service time.