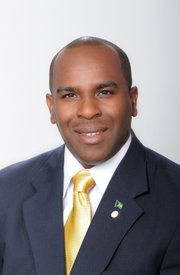 THE BY-ELECTION in North Abaco could happen as soon as October, PLP candidate Renardo Curry said yesterday. Mr Curry remained tight-lipped on the exact date for the contest - though he did say we should expect it in "a month or two".
"I can't say when but I know it will be soon," he said. "In two or three months, definitely before the end of the year. Campaigns are expensive, elections are expensive to have for all the parties involved. So the shorter the time, the better."
Mr Curry made his comments while touring Baker's Bay Development on Great Guana Cay, and the Treasure Sands Club project on Abaco on Friday.
He said he is confident he will win the seat as most of the people who supported former Prime Minister Hubert Ingraham in the last election have told him he has their support this time around.
"Most of the people in North Abaco have accepted me. I've been campaigning for a little over a year really, trying to find out what the needs of the people are. I don't think the FNM candidate has a chance. He just came home and, with elections coming soon, I don't think he'll have the time to catch up and find out what the people really want," he said.
"The former Prime Minister had the support of the people but I do not think that will not transfer to another FNM candidate. Rather, I think I will win those people over. Those 'Ingrahamies' have already contacted me and told me they will support me this time even though they supported Mr Ingraham before.
"A lot of people were disappointed in how he left, they thought he should have come back to the constituency first. A lot of those persons put him there time after time for the past 35 years. They thought he should have come back and say to the people first that "my time is up". People were saddened by that and some FNM support left."
Mr Curry, a fisherman, will face Free National Movement candidate Greg Gomez. He lost to the former Prime Minister by less than 400 votes in the May 7 elections.
Last week, Prime Minister Perry Christie said his government will not consider setting a date for the by-election until after the resignation of sitting MP and former prime minister Hubert Ingraham. Mr Ingraham has tendered his resignation with effect August 31.
"Our position right now," said Mr Christie, "is we're completing the first 100 days in office, we made a certain commitment for those 100 days we are trying to ensure that we meet what we promised and that everybody is able to see that we have done what we promised. We have not focused on the by-election, we trust that our candidate down there is campaigning and we will join him shortly."
"The FNM just held that seat, the representative for the last 35 years has been Hubert Ingraham," said Mr Christie. "It is fair to say that he has quite a grip on the constituency, particularly in the areas of Coopers Town and Treasure Cay which had a huge vote in his favour. It's something that we have to address and deal with."