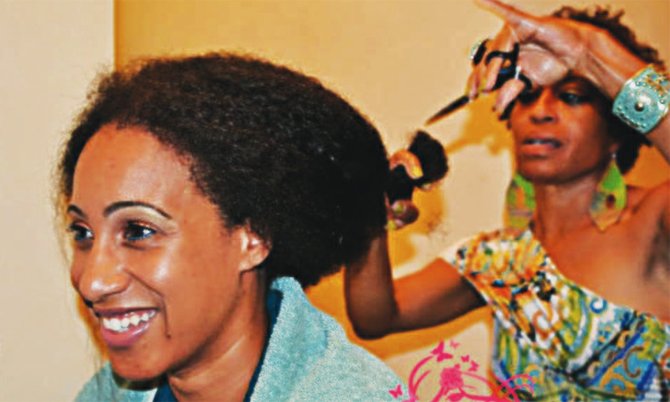 By JEFFARAH GIBSON
Tribune Features Writer
jgibson@tribunemedia.net
IN THREE years of its existence one local salon has made huge strides in helping Bahamian women appreciate their natural roots.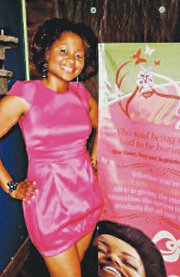 All U Natural Hair Salon, which is celebrating its third year this Saturday, with a anniversary party and a hair show, started a movement to get Bahamian women to appreciate and embrace kinky, coiled hair.
With the launch of a support group, Leshona Knowles of All U Natural has been on a mission to break down the negative ideas some people may have towards natural hair.
"Bahamians have always had natural hair. The issue arises in convincing them to embrace their natural kinks and coils. This is my ultimate goal and one of my primary reasons for establishing All-U. Most persons subscribe to the notion that kinky, curly or afro-textured hair is ugly, rough, limited and unmanageable.
However, simply learning how to create different hairstyles and incorporating basic maintenance tips into daily routines creates a tremendous confidence boost and a new appreciation for our natural crowning glory. All-U, however is of the belief that natural hair should be proudly worn and should invoke a strong sense of pride and confidence," she told Tribune Woman.
She said Bahamian women are putting much effort into understanding natural hair. Through awareness and exposure she said they are beginning to realize that wearing, sleek straight flowing tresses are not the only option.
"We have created a natural hair movement, a support group for Naturalites, provided products and services that compliment the needs of naturals, transitioning naturals and others. We've also been creating awareness by hosting various workshops, providing consultation services and taking part in local trade shows to spread the buzz that being natural isn't boring," said Ms Knowles.
"More Bahamian women are now realizing that relaxed hair is not the only option. Natural styles like braids, locks and twists have always been in existence; however, having women embrace and display their natural hair is now becoming a phenomenon on both the local and global fronts. Women are educating themselves and have become more conscious about the negative effects of the harmful chemicals found in perms which cause permanent damage like excessive breakage and thinning. Taking the natural route provides relief from all the chemicals and provides an added feeling of liberation.
The anniversary party at the Crab House & Seafood Emporium will feature a runway show, "Texture Me Natural" which will showcase the talents of emerging stylists who have recently completed a natural hair course at the Bahamas Technical Vocational Institute. The runway will demonstrate the versatility of different textures of natural hair and emphasize sassy, sexy and sophisticated styles.
Attendees will have the opportunity to participate in a Rockin' Hair Competition. They are encouraged to rock "electrifying, eccentric, outrageously beautiful natural hairstyles" for a chance to win a prize from the All U product line as well as a complimentary hair makeover by Afrotique Salon.
Jadazzles Clothing and Accessories will style the models.
There will also be hourly giveaways, limited gift bags, hors d'oeurves and pastries from The Sugar Fairies Bakeshop.
Next year All U is planning a Natural Hair Fashion Show Extravaganza.