By CELESTE NIXON
Tribune Staff Reporter
cnixon@tribunemedia.net
MINISTER of Financial Services Ryan Pinder said the proposed $16.5 million loan for the country's trade sector is of fundamental importance to the future of the Bahamian economy.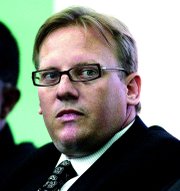 He said the loan will not only assist with the modernisation of the Customs Department, but will also be of benefit in country's effort to join the World Trade Organisation (WTO).
Speaking in Parliament in support of a resolution for the loan, which will be funded by the Inter-American Development Bank, Mr Pinder predicted it will create "great momentum" for the country's trade agenda and benefit all Bahamians.
He said: "The loan seeks to facilitate the implementation of the Customs Management Act by providing for training but it also will facilitate an entirely new platform for the way that Customs processes and captures data and will support the electronic submission of documents."
This in turn, will not only make it easier to do business in the Bahamas, but may even improve the country's "ease of doing business" ranking, he said.
Mr Pinder said the trade component of the loan will focus on three areas:
• Training of public officers to strengthen institutional capacity.
• Establishing a Bureau of Standards to regulate the products Bahamians purchase and consume.
• Modernising the way intellectual property applications are processed and filed by the government.
He added: "There is also a component of the loan to support the WTO accession process. There are allocated funds to assist in establishing a presence and technical capabilities in Geneva where the WTO is located.
"This is an important step as we progress further."
Mr Pinder said WTO accession would guarantee the Bahamas the market access it needs to support international trade.
"The immediate benefit for the business sector from WTO accession is the legal guarantee of continuing access to US and other world markets on more favourable and guaranteed terms," he said.
"While not widely recognised, the Bahamas currently has no guaranteed rights of market access to any foreign markets except those of the European Union and other CARIFORUM states."
Mr Pinder concluded by saying the loan is "of fundamental importance to the process of the continued economic development of the Bahamas" and will ensure opportunities for Bahamian participation and advancement grow.
"It is important as this process continues, and we position ourselves, with the tremendous advantage that we do have, to develop a robust international trade element of our economy, that the technical assistance and trade infrastructure assistance exist.
"This loan is a part of the continued process of ensuring the Bahamas is most favourably positioned at the end of the process of trade negotiations and trade liberalisation. Financial, technical and other resources are essential to enable this work to be conducted," he said.