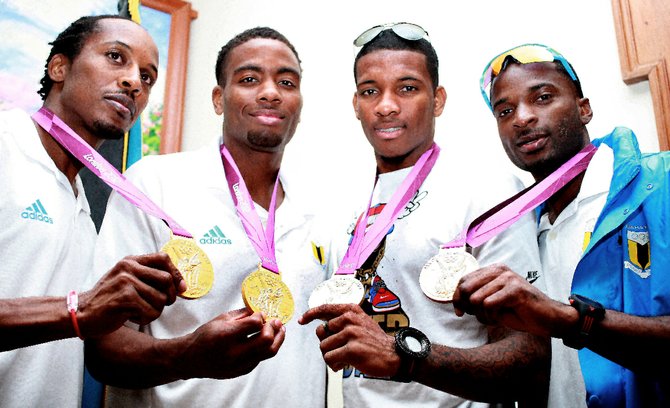 A CONCERT to honour the Bahamas' Men's 4 x 400m Relay team will be held on Saturday at 7pm at Clifford Park as the country continues to celebrate their gold medal winning performance at the London Olympic Games.
Earlier that day, the 'Fantastic Four', Ramon Miller, Demetrius Pinder, Chris Brown and Michael Mathieu, will parade through the island in a massive motorcade.
The victory parade and concert are two of the continuing celebrations being held to mark their historic Olympic win.
The awesome foursome paid a courtesy call to Prime Minister Perry Christie at the Office of the Prime Minister, Cable Beach, yesterday.
They laughed and joked with the PM, who told them: "The entire nation was lifted by the achievement."
Mr Christie was there to meet the team when they arrived home on Monday night to a cheering crowd at Lynden Pindling International Airport.
They arrived just after 11.30pm, much later than originally expected, but were greeted by friends and family, fans, ministers and the PM.
After a short briefing at the airport, the 'Golden Knights' enjoyed a victory homecoming celebration at Mario's Bowling and Family Entertainment Palace.
Although the Olympic champions didn't get there until after 12.30am an excited Bahamian crowd, which had patiently awaited their arrival, gave them a heroes' welcome.
Today the four were expected to visit the House Of Assembly at noon.
On Thursday they will pay a courtesy call to the Governor General, Sir Arthur Foulkes, at Government House at 11am, followed by lunch with the Prime Minister at 1pm.
On Friday, BTC, who were the primary sponsors of Team Bahamas, will host a major event during the day followed by an evening of 'Goombay Summer' on Bay Street.
Details of both events will be released later in the week.
SEE our sport section and our FREE souvenir special inside today.