By JEFFARAH GIBSON
Tribune Features Writer
jgibson@tribunemedia.net
HER OWN trouble sleeping at nights became the plot of her new children's book. Author Allie MacPhail, a marriage and family therapist at the Caribbean Center for Child Development, recently released a locally illustrated children's book on stress management for children with a twist.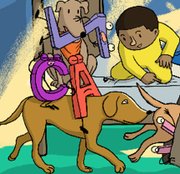 "I Can't Sleep" came to life one night when author Allie MacPhail, found herself up during the wee hours of the morning. When she started writing the book, it was just to pass the time. However, it turned into something much more.
The book follows a fourth grade boy who experiences trouble going to bed at night, something many children and teenagers can relate too. Aware of his sleep problem, his friends and family give him ideas on how he can get to sleep, however nothing works.
Despite what many people think children worry about - family, friendships, school - the young boy's attention is really focused on whether or not he will ever get out of the fourth grade.
As a therapist, Mrs MacPhail recognizes that anxiety and stress can sometimes cause sleepless nights. The book demonstrates one method parents can use to help children overcome worry and have a good night's sleep.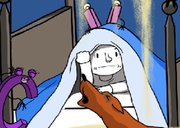 "I believe that sleepless nights are a big part of any one's life; it is a rather timeless topic. Parents from across the ages have all heard the phrase, I can't sleep. However as we have become increasingly more technology based, our children are being flooded with more and more images, more and more ideas and more and more things they can potentially worry about. Today, stress or worry management is a very important thing to teach our children; This book is a fun way to introduce it."
"We may not think children have any worries but they do. And they are not like adults who sometimes know how to deal with their worries. Parents must take the time to listen to the worries of their children no matter how silly it may seem because to them it is a problem," she told Tribune Arts.
A main point Mrs MacPhail sought to drive home is that parents must help make their worries more manageable. She said "I Can't Sleep" is a good way of introducing stress management to children.
"Sure children do not worry about how to pay the bills or how to fit 28 hours of work into a 24 hour day, but they do worry. They worry about school, friends, community happenings, world event and most definitely they worry about family issues. If we as adults in their lives can model and teach them a way to better handle worries then they will grow knowing that while they cannot make all the worries disappear they can better handle the effect they have on their lives," she said.
Finding a way to make worry, not seem scary or depressing was a goal Allie was able to accomplish with help of Bahamian illustrator Jase Mckinney. The pictures, colours, and drawings presented the subject in a light hearted and fun way, she said.
"The story starts out in grey tones. Gradually as characters from the boy's thought bubble arrive, the room becomes full of bright colour and chaos. Jase did an excellent job illustrating the action within the mind of a fourth grader. Also, the characters that come out, such as letters of the alphabet, potcakes and sand each have an illustrated storyline in themselves. A lot of children have been re-reading the book just to see what the letter Z is doing on each page or what the brown potcake is doing."
As Mrs MacPhail desires to see literacy for school children soar, she is creating a "Book the Author" event.  The event is an interactive time where children, teachers and Allie MacPhail read and discuss various themes found within the book.
The book was released on July 26 and is available at Bahama Sol, Doongalik Art Studio, Bahama Art and Handicraft, Logos Bookstore, Buy the Book Nassau Stationers and Caribbean Center for Child Development. $2 from every book that is purchased from the Caribbean Center for Child Development is donated to the Seahorse Institute, an organisation for autistic children.