By Teri M. Bethel
Jackie Carey mother of 15 year old Jada Carey was all smiles when she learned of the texture painting class that was scheduled to begin in Eleuthera. The reason, Jada has always loved art and crafts but has not been able to find classes on the island to develop her skill. She is an avid crochet artist creating bags and hats of many colours and styles.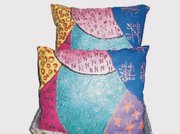 In the classroom Jada was quiet and unassuming. Very rarely would she speak but she listened intently, followed instructions to a tee and came out with fabulous designs. Jada has a unique style of her own. It's quite refreshing; her choice of colours gives her designs that special pick-me-up feeling.
It is no wonder she has spent much of her time creating painted tee shirts for her clients since taking the class. What is remarkable is after a five day class, young Jada was able to apply the art techniques learned to create fabulous items for her "Creative Craft" BGCSE examinations.
Her work was the talk of the school. According to Mrs Carey, her daughter's teachers and schoolmates were impressed with the innovative way she used her new skill.
Jada chose to make painted canisters out of a recycled plastic material for one portion along with two vibrantly painted throw pillows. In addition to the painted items, Jada crocheted several sets of interesting fashion accessories.
Jada is not the only texture painting student putting her new craft to good use in Eleuthera. Ms Charlene Kelly, a local craft teacher, was happy to share her new tye dye techniques with kids this summer. Ms Kelly recently noted, "So far I have used the dyeing technique with the students at the Royal Bahamas Police Camp at the North Eleuthera High School. The kids loved it, you should have seen the smiles on their faces when the T-shirts were dried and they took the rubber bands off. They were so amazed."
Ms Kelly is looking forward to the start of the new school year so that she can share this technique with her students in preparation for their BJC and BGCSE exams. Ms Kelly believes the technique which eliminates the use of boiling water is safer than the traditional method and allows students a lot more time to be creative.

• Teri M. Bethel is a texture painting & handbag instructor at Teri Monique Design School, a distance learning school for creative minds. She is the designer of Teri Monique Handbags, a line of custom made art purses for ladies. For more information visit: http://www.paintwithtexture.com