By JEFFARAH GIBSON
Tribune Features Writer
jgibson@tribunemedia.net
Christians are not free from attacks by the enemy where health is concerned. When faced with bad news concerning one's health what should a believer do?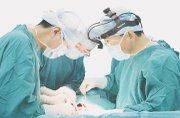 In a new book "Facing Major Surgery With God" Bishop Albert Ferguson seeks to give encouragement to individuals who have been diagnosed with any illness.
"This pastoral ministry booklet is designed to provide inspiration, encouragement and pastoral support for a special group of individuals in the body of Christ, persons facing and recuperating from major surgery and major traumatic illnesses, including persons living with cancer and undergoing chemotherapy, or otherwise coping with other medical treatments such as radiation, physiotherapy, dialysis."
Bishop Ferguson said some people may feel alone, rejected, or feel as though God has turned their backs on them. Additionally they may not know what to do; their faith may diminish, and they may also lose hope.
Through the book, he ministers to readers, providing answers to questions that may come regarding their belief and health.
"Members of the faith community, and quite often, friends and loved ones, who desire to approach or minister to these persons, are at a loss as to the proper or appropriate things to say, or do. Giving such persons a copy of this powerful ministry booklet could fill that need," Bishop Ferguson told Tribune Religion.
Bishop Ferguson said he was given the assignment to write the book from God. He also said because he comes face to face with Christians who are battling diseases he wanted to give them hope and encouragement too.
"This is something which God has placed into my hand. I am in contact with Christians who are battling cancer in their bodies, or are on chemotherapy or radiation as well as with persons facing the prospects of undergoing major surgery, or persons who are recuperating from major surgery or a major traumatic illness. People talk to their pastors, priests and ministers, sometimes in a manner that they would not do, otherwise, to others. So pastors, ministers and priests feel lots of emotion from these people who are suffering, stressed and burdened, especially as they silently battle the question of 'Why Me?' Otherwise such persons struggle with denial, or the particular phase of denial which is prominent within them at that time," he said.
Bishop Ferguson said an important feature in the book is that it includes encouraging and uplifting testimonies of persons who have, or are facing the same sickness as the readers. With testimonies like the ones included in the book readers are encouraged by their stories to let go and let God.
Bishop Ferguson said there is also a presentation about divine assignments in the book. This particular segment of the book will help individuals know whether or not his or her sickness, major traumatic illness or on-going medical treatment regimen is, in fact, a 'divine assignment'.
"Once a person receives a revelation that his or her sickness is a divine assignment, then the whole picture changes. This is the point at which the inspiration aspect takes root."