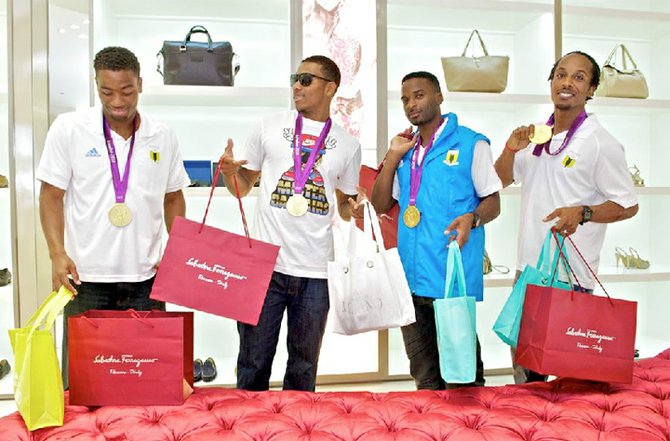 By RASHAD ROLLE
THE BAHAMAS' Olympic gold medal champions have been hailed as heroes in Parliament.
The Men's 4x400m Relay team, Chris Brown, Demetrius Pinder, Michael Mathieu and Ramon Miller, were invited to the House of Assembly yesterday as parliamentarians recounted their own experience of the final race in London last Friday, and praised the men as role models for the country.
Minister of Youth, Sports and Culture, Daniel Thompson, said: "We love you. We support you. You are national heroes on this day."
He said: "In 2000 we got the silver. In 2012, 12 years later, we came home with the gold. The story for young men and young Bahamians out there is no matter how hard the struggle or how hot the sun, don't give up. You're almost there."
Opposition leader, Hubert Minnis, said: "When I watched the relay and saw a small nation like the Bahamas running down America, I was elated.
"You deserve to be looked after by the country. I think we seriously need to consider increasing our funds for young people who are doing so much for our country."
Loretta Butler Turner, MP for Long Island, said: "I don't want to refer to them as golden boys – I would refer to them as the golden men."
Ms Turner said the Men's 4x400m Relay was a "where were you when. . ?" moment, because everyone will remember what they were doing when history was being made.
"You have an entire nation behind you," she said. "Everybody dropped what they were doing to be a part of the golden moment you ran for the Bahamas."
Prime Minister Perry Christie praised the young men saying: "These young men are exemplars. They are the kind of young men who every child around the commonwealth that had the opportunity to see them or hear about them would draw the conclusion 'I could be like them, I want to be like any of them.'
"We have to provide the best opportunity for these children to aspire to wanting to achieve or attain what these young men have."
Supporters of the gold medallists waited outside the House of Assembly to congratulate them yesterday lunchtime.
Margaret Small said: "They should get land and $50,000 each and a nice car to roll around in."
Nurse Donaldson and Nurse Forbes, from the HIV/AIDS Centre and Comprehensive Clinic, said: "Chris is our favourite because he's been trying for so long. We cried and screamed for him when the team won the gold, so we had to be here on behalf of everyone at the clinic."
Asked what they would do with the photo they took with the team, the women said: "We're going to keep this photo of them as souvenirs and show it to our children."
The Olympians also went on a shopping spree - courtesy of Carlo Milano in Nassau, which presented gift bags to the foursome including Carlo Milano watches, Versace sunglasses and cologne and Ferragamo shoes.

Sylvia Chee-A-Tow, of Carlo Milano, said: "We are so proud of Team Bahamas for bringing home the gold, we wanted to shower them with gifts!"
'Fantastic Four' collect $12,000 and hit the House of Assembly - pages 16, 17, 18 and Sport.