By CELESTE NIXON
Tribune Staff Reporter
cnixon@tribunemedia.net
ENVIRONMENT Minister Kenred Dorsett said the government is looking at proposals seeking to save BEC $100 million annually.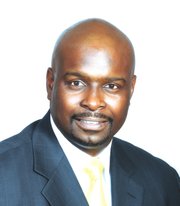 Following the end of the government's first 100 days in office, Cabinet Ministers gave updates on commitments promised in the Charter of Governance. During his contribution, Mr Dorsett communicated aspects the government's proposed plan to lower the cost of electricity.
"While the Bahamas faces a serious challenge as a result of the high cost of electricity," he said, "a tremendous opportunity exists to address the challenge."
In addition to considering proposals to increase baseload generation and save BEC $100 million annually, which the government hopes will trickle down to consumers, Mr Dorsett said in order to reduce costs further, reliability upgrades, replacement and rehabilitation of auxiliary equipment will be carried out.
The government has also received proposals from local and foreign interests about producing electricity in the private sector that could be sold to BEC and on-sale to consumers, as well as the outright purchase of BEC by private interests who will sell electricity directly to consumers.
He noted the government is considering using additional heavy fuel baseload generation to reduce electricity prices.
The government, Mr Dorsett said, is committed to reducing the country's reliance on fossil fuel through the adoption of sustainable energy sources.
"We believe alternative, renewable energy sources, applying waste-to-energy technologies and promoting energy efficiency and conservation measure are all important in achieving this object, which will reduce the cost of electricity.
"We are considering proposals for solar energy plants, waste to energy plants, ocean thermal energy plants and wind power," he said.
In order to facilitate this, Mr Dorsett said a sustainable energy matrix together with legal reform must be implemented.
"The Electricity Act 1956 must be amended to incentivize private public partnerships in the expansion or development of the country's electricity infrastructure and sustainable energy goals.
"We must remove the legal impediments of exclusive rights for the generation and sale of electricity, the prohibition of self-generation and interconnection to the grid."
Of the renewable energies, Mr Dorsett identified solar energy to be the most accessible – where consumers could be encouraged to create renewable energy for their own use with excess generation being sold back into the grid, with the implementation of new billing arrangements.
Imagine that, Mr Speaker, Bahamian businesses and home-owners getting a cheque from BEC rather than paying BEC – that is progressive and that is what we are fighting for," he said. "In time we can become known as the 'Islands in the sun' for our tourism business as well as for power generation."
The following measures also will be advanced by the Ministry of Environment to reduce electricity costs:
• Introduction of a Renewable Energy Act;
• Creation of an Electricity Sector Regulator;
• Establishment of a Sustainable Energy Unit in the Ministry of Environment;
• Development of a National Review Plan to evaluate the most efficient way to move electricity from one island to another;
• Expand incentives to reduce the demand for energy;
• Introduce further reductions and or exemptions of customs duties on energy efficient appliances
• Encourage businesses to conduct independent energy audits and
• Encourage the private sector to generate electricity that can be sold to BEC.
As the tourism sector accounts for some 40 per cent of electricity consumption and public building accounts for 10 per cent, Mr Dorsett said his ministry will be working with Minister of Tourism Obie Wilchcombe to establish a frame work to increase energy efficiency in that sector.
A strategy also will be developed, Mr Dorsett said, to retro-fit government buildings and public streets lighting for wider use of solar power, in addition to converting some street lights to LED fixtures to reduce costs in the short term.
Other alternative energy sources such as Liquefied Natural Gas (LNG) and a waste-to-energy solution for the land fill on Tonique Darling Highway also will be explored.