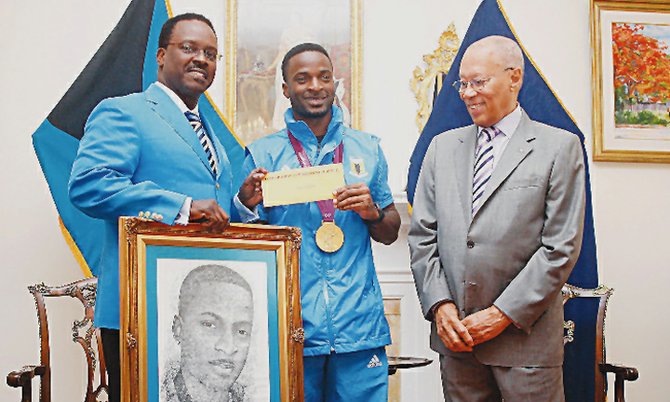 By RENALDO DORSETT
Sports Reporter
rdorsett@tribunemedia.net
The "Golden Knights" are beginning to reap the benefits of their gold medal winning performance in London, receiving their first incentives from the government.
During a courtesy call on Governor General Sir Arthur Foulkes yesterday, the four quarter-milers were presented with cheques. However, the goverment remains hush on the specific details of the reward given to the team.
"The prize that we gave out today is over $100,000. We do not wish to disclose what each individual got, but there is more to come," said Minister of Youth, Sports and Culture Dr Daniel Johnson.
"It is evenly distributed. They all got an even amount. But there are also other things that are coming for them but I have to leave that for the Prime Minister to announce. They collected their cash reward from the Bahamas government today, but they will receive more incentives in a meeting tomorrow. That's all I am willing to say at this time. We do not really want to release individual figures. I think it is a private concern. It will be up to them to say what all they get but I will not say."
Chris Brown, Demetrius Pinder, Michael Mathieu and Ramon Miller are scheduled to meet with ministers today.
"They will be meeting Friday with the attorney general to give them advice in contracts, and we will also be giving them advice on travel," Mr Johnson said. "They are now national heroes and they will be treated in accordance with that kind of designation. We will ensure that they are treated as national heroes. There are one or two things that we want to include with being role models for young men as they travel and giving them advice on how to best tell their story."
Brown thanked the government for their continued support and looked forward to future success from Team Bahamas in 2016.
"On behalf of Team Bahamas, the BOA and the men's 4 x 4 team, we would just like to tell everybody thank you for believing in us and sticking in their with us. I am not retiring, just for the record, any time soon. We just would like to say thank you and we hope that in 2016 , we have a 4 x 1 or 4 x 1 team of females that will bring in some gold and not just in track but bring home gold in other areas also," he said. "Thank you for allowing us to continue to do our job."