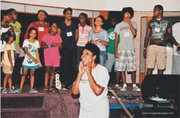 ROYAL Bank of Canada sponsored the visit of students in a special education initiative to this year's Summer Music Camp and Mentoring Programme.
The camp, now in its fifth year, is part of RBC's ongoing campaign to support youth development across the country.
The FOCUS initiative, which is administered by the Lyford Cay Foundation, is a year-round academic enrichment programme that helps underserved, academically motivated students reach their full potential.
Roscoe Dames, founder and director of the camp, said of the visit: "It was an amazing experience to be able to fuse together opportunities through music.
"We are delighted to give the students of FOCUS an opportunity to see first-hand how music is made."
During their visit to the camp, the FOCUS students were introduced to the process of making music and learnt about the various genres and styles of music.
They learned first-hand how vocalists, musicians and technicians come together to create a finished musical product.
The students also saw how a track is put together in an audio engineering room.
Carmetta Barry, a FOCUS participant and 5th grade student at Albury Sayles Primary School, said: "It was a good experience to see Bahamians actually making music".
RBC public relations manager Jan Knowles said: "RBC is a committed supporter of groups such as FOCUS and the Summer Music Camp that contribute to youth development.
"We are pleased that two organisations which we support have come together to pool their resources and assist one another. This sharing of ideas and collaboration of efforts will enhance each programme and is a practice that RBC encourages."