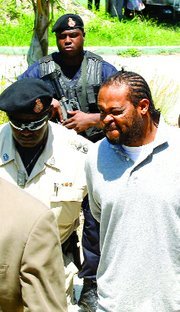 AN ahead-of-schedule Bill presentation yesterday to Stephen "Die" Stubbs brought the man one step closer to being tried in Supreme Court in connection with a murder charge.
The early Voluntary Bill of Indictment (VBI) presentation, which was expected to be served on September 24, caused defending attorney Murrio Ducille to express his displeasure at the way the presentation came about.
Apparently his law firm had not been informed of the early move by the Attorney General's office. He told Deputy Chief Magistrate Carolita Bethell that the prosecutors should have extended the same courtesy to him as they had done to the court.
The VBI presentation, nevertheless, continued as "Die" Stubbs, handcuffed and shackled next to co-accused 30-year-old Giovanni Roberts, stood before Deputy Chief Magistrate Bethell to be served with a Voluntary Bill of Indictment in his double abetment-to-murder case.
Both men were charged two days apart near the end of July in connection with the September 15, 2011 double murders of Jamacio Jones and Clayton Smith.
It is alleged that the pair aided and abetted the murder of Jones and Smith, who were found in a white Maxima in the middle of the road in Ridgeland Park with gun shot wounds.
Smith, who was shot in the back of the head, died at the scene while Jones died of his injuries in hospital two days later.
Deputy Chief Magistrate Bethell informed them of what the Bill they would be signing contained and their right to enter an alibi.
Both men said they would submit an alibi to the Attorney General's office in 21 days.
Stubbs and Roberts are now on their way to the Supreme Court where they will be arraigned and requested to enter a plea to the two charges of abetment to murder. However, the date of the arraignment was not announced.
Roberts has retained Wayne Munroe to defend him. However, neither Mr Munroe nor any of his juniors were present. It is believed their absence was due to the early VBI presentation.