By BRENT STUBBS
Senior Sports Reporter
bstubbs@tribunemedia.net
HE has been a household name on the local scene since he was nine years old. Now Daron Beneby is hoping that his experience will help to inspire and motivate more of the young Bahamian soccer players as he ventures into another aspect of his life.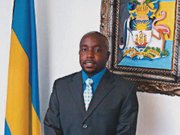 Beneby, 28, is scheduled to depart on August 31 as one of the recipients of the Chinese government's scholarship. He intends to pursue his masters degree in international trade.
"I'm very privileged. This opportunity came at a very exciting time and I'm very pleased to have been afforded this chance to expand my horizon," he said.
A former member of both the junior and senior national teams, Beneby is currently the vice president of the Bears Football Club, headed by Dion Godet, his mentor and former coach.
"I know when I was actually college age, the scholarships were not in abundance as they are now," he said. "I think at the time, just one person my age got a scholarship. But over the years, many more individuals have been able to get scholarships and I think that is part and parcel of the association giving us opportunities to play the sport and get more exposure."
Undoubtedly an inspiration to the sport on the whole because of his pathway through the club, Beneby said he's delighted to have been afforded this opportunity to continue his education, although it's not on an athletic scholarship.
"They are proud to see that you can still get achievements outside of soccer," he said. "So for the youths coming up, they can see that they don't necessarily have to get a soccer scholarship to be able to achieve their goals. But I hope that when I get in China, I can still get to play some soccer and actually enhance my skills in the sport."
Having been there and done that, Beneby said he just wants to encourage the younger soccer players coming up to improve their performance on and off the field.
"As a young player coming up, I always wanted to pursue a higher level of education and even though I'm no longer actively playing soccer, I can still get to do it," he said. "I hope that the soccer players will take advantage of every opportunity that they get to fulfil their dreams."
Beneby will be off on a two-year course.