BY DENISE MAYCOCK
Tribune Freeport Reporter
dmaycock@tribunemedia.net
FREEPORT – Supreme Court Senior Justice Hartman Longley sentenced a convicted rapist to serve seven years in prison.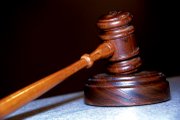 Damicko Henry Romer wasted no at the start of his trial and pleaded guilty to the rape charge on Monday. He appeared back in the court on Tuesday for sentencing.
After handing down the sentence, Justice Longley admonished Romer about the seriousness of the offence for which he was convicted.
He told the young man to use his time in prison to reflect on what he done.
"I hope this serve as a lesson," he said.
Justice Longley then told Romer he was still young and had a chance to return to society to be a productive individual.
Simeon Brown represented Romer. Prosectuor Erica Kemp appeared for the Crown.
After Romer pleaded guilty to rape, the prosecutor dismissed the stealing charge against him.
According to Ms Kemp, Romer raped a 32-year-old woman in October 2011.
The victim was at a nightclub around 4am, waiting for her ride when Romer offered her a ride home.
Romer and the victim got into a vehicle with a man who was parked outside the club. He and the victim were sitting in the back seat.
Romer told the driver to take them to the Xanadu Beach, but the victim told him that she wanted to go home.
He then told the woman to take off her tights and threatened to hit her if she did not be quiet. Romer had sex with the woman and then dropped her off.
The woman told a neighbour what happened. She was taken to the hospital and examined by a doctor.
Police arrested and questioned Romer, who gave samples for DNA analysis.
Prosecutors said that DNA tests showed that Romer's DNA matched that taken from the victim.