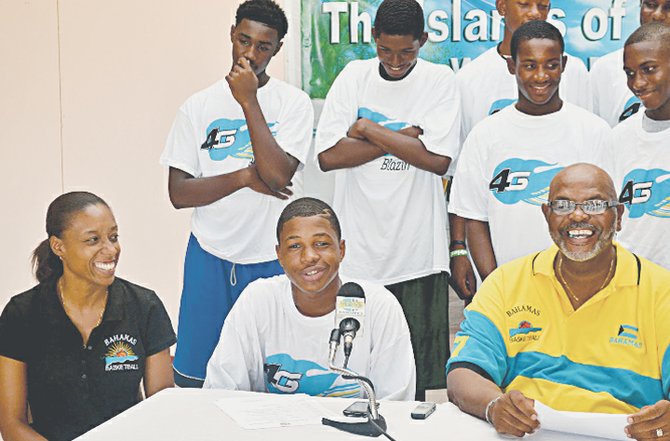 By RENALDO DORSETT
Sports Reporter
rdorsett@tribunemedia.net
Dubbed the "future of the Bahamas Basketball Federation" and its national team development, the BBF will field one of its youngest men's national teams in recent years, as they prepare for competition against several regional powerhouses.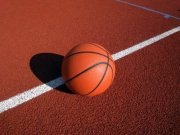 The team is scheduled to leave today for the CentroBasket Under 15 Championship for Men, set for August 25-29 in El Salvador.
The Bahamas is grouped in Pool B with the Cayman Islands, Mexico and El Salvador.
Pool A includes Costa Rica, Puerto Rico, Barbados and Guatemala.
Head coach Quentin Hall said that despite their age, his team understands the importance in doing well on the floor and also being ambassadors for the Bahamas at all times.
"More than winning or losing, the most important thing is for them to play as hard as they can on the floor, and conduct themselves the right way in a mannerly fashion off the floor. They have represented themselves the right way and I think they will be good representatives for this country. What I want them to take away from this is that these moments here last for a lifetime, what you do here together stays with you and if this team can stay together, they can be very special in years to come," he said. "It's tough to put a team together during the summer months. A lot of these kids were at camps, playing in AAU tournaments or travelling, so it was difficult to put together, but over the last few weeks we have been able to form a cohesive unit."
The Bahamas opens play August 25 against El Salvador, followed by Mexico on August 26 and Cayman Islands on August 27.
"With this talented coaching staff this job becomes a whole lot easier because I know without them, it would be a whole lot more difficult. This team has some really good guards and our bigs are very talented as well. It's going to be a tough challenge, with the travel and going to play the home team the first game on their homecourt," Hall said. "The adjustment for them will be to get there and to be relaxed, and most importantly to be confident and that is what I have tried to instil in them these last few days before we head out."
BBF president Charles Robins said expectations remain high for the team because of the Bahamas' rich history in past Centrobasket tournaments.
"In the past our teams have done very well in this tournament. Under myself in 2002 and Mario [Bowleg] taking the team from there to another level to the Tournament of Americas. We have a very good coaching staff and we have high expectations under Quentin that it will be no different," he said.
"We feel this team can qualify and move on to the Tournament of Americas. We are going to do very well I saw the team practice on a number of occasions and the guys look good and I think they are going to bring back the gold."
As for the players themselves, the confident group said their cohesiveness could prove to be a deciding factor in the team's success.
"Our biggest strong point should be our defense, and on offense our point guards and our bigs," said center Raymond Smith. "Our togetherness is very strong. We played, lived and worked together so our cohesiveness is there."
"We have a team of great coaches. Even though they gave us a lot of stress getting ready for the tournament, we came through it together," said guard Shamar Burrows. "Now we feel like one and we are ready. These players are like my brothers."
The CentroBasket is an International Basketball Federation (FIBA)-sponsored basketball tournament featuring Central American and Caribbean countries in the Central American and Caribbean Confederation.
The top four teams earn berths to the FIBA America Championships, which leads up to the FIBA World Championships and the Olympics.
"This team has been working hard for a number of weeks now. The team consists of players not only from New Providence and Grand Bahama but we have players from San Salvador and elsewhere," said chef de mission Clifford Rahming, "We feel like this group ought to do extremely well."
Sponsors for the teams and the BBF in general include BTC, The FML Group of Companies and Grant Thornton.
2012 CentroBasket U-15 Roster
Guards
Daejour Adderley
Birthel Lightfoot
Chavez Young
Travis Barnett
Janeko Russell
Shamar Burrows
Forwards
Shamal Miller
Eduardo King
Sebastian Gray
Raheem Laing
Centers
Raymond Smith
Livingston Bromwell
Coaching Staff
Quentin Hall - Head Coach
Chevvy Simmons - Assistant Coach
Stephen Brown - Assistant Coach
Manny Adderley - Assistant Coach
Anton Francis - Manager
Chef de Mission
Clifford Rahming
Official
LaFred Gator