By BRENT STUBBS
Senior Sports Reporter
bstubbs@tribunemedia.net
AFTER starring at the Village School in Houston, Texas, Androsian Shaquille "Shaq" Cleare spent some time at home preparing for his transition to the University of Maryland where he will begin his freshman year for the Terrapins men's basketball team.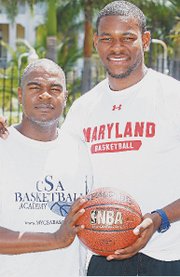 The past two weeks of the remainder of his summer was geared towards a training regimen that was put together by Marvin Henfield, the director of basketball operations for the Caribbean Sports Agency (CSA) Basketball Academy.
The 19-year-old, six-foot, 10-inch, 270 pound center went through a series of drills for his "pivot, post game, mobility, ability to play with his back against the basket and his shot selection," but what impressed Henfield the most was his foot speed.
"After just finishing up AAU ball, he has a lot of tools in his arsenal that should make him a formidable player in the ACC," Henfield said. "Maryland plays against Kentucky and North Carolina. The ACC is one of the biggest conferences in the United States, so he will have to play against some big time players.
"But I'm sure that based on what I've seen in the short time that I had to work with him that he will be able to handle himself very well. He should be able to finish around the rim. For a Bahamian kid playing at that level, I just think it's awesome. I'm just glad that I had the opportunity to help prepare him for what's ahead of him."
The Atlantic Coach Conference (ACC) is the conference that Maryland plays out of. Last year, the Terrapins finished with a 6-10 conference record for a .375 percentage. They ended up with an overall record of 17-15 for a .531 percentage. North Carolina topped the ACC at 14-2, followed by Duke at 13-3.
While working with Bahamian professional players Bennet Davis and Akeem Coleby in June, two of the 12 athletes he has under contract, Henfield said Cleare's father, Brian, approached him with the idea of helping his son when he came home in August.
"This is my first time working with him, but it's been great," Henfield said. "What I like about him is his desire to work. In fact, we've been doing three days - 5 o'clock in the morning at Kendal Isaacs Gymnasium and we go back at 7pm for two hours each time.
"If he continues to put in the work, I can guarantee you that he will be a first round draft pick in the NBA in 2014."
What Henfield liked is the fact that Cleare came to him before his skills were completely developed. Unlike the others, Henfield had a chance to "teach him the tools of the trade" in the short time they were together.
"I think this year, he's going to have a breakout freshman season," Henfield said. "Then he will come back for a much better sophomore season and hopefully be in a position to declare himself eligible for the NBA draft, which is his dream. I'm just excited to get someone like him, who is a freshman.
"I would have loved to have had the opportunity to work with him from he was in the 10th grade. But he's the first athlete that I had of this calibre, so I was extremely pleased to have the opportunity to impart some of the knowledge of the game on to him."
The once soft spoken Cleare, who is now much more poised and confident with his speech, said he owes a great deal of gratitude to Henfield.
"He has certainly taught me a lot in the time that we worked out together," he said. "I think I've developed some moves that I haven't had before. It's just a matter of me going to school and continuing to work on them as I go through the routine that the coaches will take me through once I get there."
Cleare, who leaves town on Saturday for College Park, Maryland, where he will enrol in his classes before getting on the basketball court to practice in September, said the workouts with Henfield have been intense, but they provided a fun learning experience for him.
"I'm really pleased that I had the opportunity to work with him. It's very rare that you can come home and find someone that has the wealth of experience like coach Henfield," Cleare said. "I think he has helped me out tremendously. I'm happy that I had a chance to work with him."
Cleare said he doesn't know what to expect when he heads to Maryland as far as his rotation in the Terrapins line-up under second year head coach Mark Turgeon, but he knows that he will be ready for the transition from high school to college.
"I think I've done the necessary work to get play at the college level," said Cleare, one of six freshmen who will challenge 7-1, 225 pound sophomore Alex Len for the spot in the middle. "I'm really looking forward to playing for Maryland this year."
For Cleare, it's one thing to be a Bahamian playing division one college basketball, but it's another to come from the Family Islands.
"They always say I have to be a big time player coming from the islands," he said. "I don't know what it is about the athletes from the Family Islands. We always seem to grow very big. I guess I got a lot of my height from my family because my parents were very tall."
Cleare is the son of Brian and Agatha Cleare from North Andros. He got a late start playing the sport, but has blossomed into a player that is now bound for division one college and eventually a member of the men's national basketball team and a future NBA player.
Cleare is featured on the CSA's website in a special called "In the Zone" video of the week. It outlines his workout sessions under the tutelage of Henfield, both in the gym and in the weight room.