By LAMECH JOHNSON

Tribune Staff Reporter
ljohnson@tribunemedia.net
A JAMAICAN man spent his first night of four years behind bars after admitting bringing cocaine from Panama City to Nassau with the intent to supply it.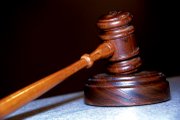 Junior Anthony Davis, 37, of Cottonwood Street got the four pounds of cocaine from Panama City and was supposed to deliver the $2,000 package to a person named 'Gal'.
He was caught and arrested at Lynden Pindling International Airport on Tuesday around noon and yesterday he was arraigned in the magistrates' court.
Davis pleaded guilty to separate charges of importing dangerous drugs and possessing dangerous drugs with intent to supply.

After the Pinewood Gardens man entered his plea, Deputy Chief Magistrate Carolita Bethell said she'd noticed his accent and asked him if he was Jamaican. "I grew up in Jamaica but was born in Eight Mile Rock," he said.
The court heard that on Tuesday, plain clothes officers were on duty at the Bahamas customs area of the airport where they saw Davis 'acting in a manner they deemed suspicious.'
The officers approached the man and asked to search him and his luggage.
After moving to a closed location, they searched a black suitcase and found a panel that contained a white paper package.
Further inspection revealed two plastic packets which contained a white power suspected to be cocaine.
Davis was cautioned, arrested and taken to the airport police station where he was handed over to the drug enforcement unit.
The Jamaican told officers that he'd paid $2,000 for the cocaine in Panama City from a person known to him as 'Aldo' to be given to a person he only named as 'Gal.'
Deputy Chief Magistrate Bethell asked the man if he accepted the facts read by the police prosecutor and he answered "Yes."
"You know you had cocaine in the bag?" she asked. "Yes" he answered.
She found the defendant guilty and convicted him on both counts.
"I really sorry for what I done," he said, asking the court to "please have mercy upon me". The magistrate asked him why he did it and he said it was "because it was a hard situation".
"I was going through a rough time. It was something I was thinking about for a while after speaking to someone," he added.
She told him that the minimum for the offence was four years at Her Majesty's prison. While she said that four pounds of cocaine "is a lot of drugs", she also considered the fact that he immediately co-operated with the police and pleaded guilty.
He was given two years for the importation charge and four years for the possession. Both sentences are to run concurrently.
Davis was not represented in yesterday's arraignment.