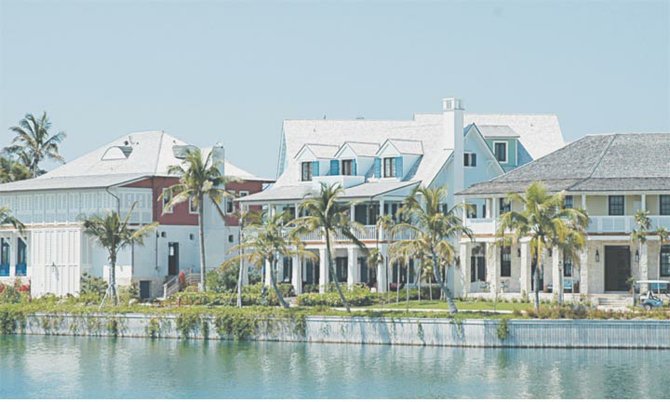 By NEIL HARTNELL
Tribune Business Editor
nhartnell@tribunemedia.net
Developers of the $1.4 billion Baker's Bay Golf & Ocean Club have vehemently denied accusations they "haven't lived up to their commitments" to the local community under the project's Heads of Agreement, and pledged to complete facilities such as a public beach park within the next 12 months.
Responding to Tribune Business's inquiries, Dr Livingston Marshall, Baker's Bay's senior vice-president of environmental and community affairs, while acknowledging that several public facilities had not been constructed according to the schedule set out in the agreement with the Government, argued that the developers had "in many instances surpassed" their obligations to the Bahamas.
Dr Marshall explained that the delays in constructing the community facilities had been caused by a combination of the recession, which caused the Baker's Bay developers to adjust their strategy, and the wait for key permits - such as executed leases - from the Government.
The status of the community facilities promised under the Baker's Bay Heads of Agreement appear to have become the latest battleground between its developers and the project's long-standing opponents, the Save Great Guana Cay Reef Association.
Dr Marshall was responding after Great Guana Cay-based businessman, Troy Albury, who has been one of Baker's Bay's leading opponents, complained to Tribune Business that the developers - Arizona-based Discovery Land Company - had not fulfilled their promises to the Abaco island's residents.
Alleging that Dr Marshall had conceded the promised community facilities should be constructed, and would be done "ASAP", Mr Albury told this newspaper no start had been made to-date on the beach park or the community centre.
Arguing that it would only cost the developers $300,000-$400,000 to construct these amenities, Mr Albury urged the Hope Town District Council, the area's local government authority, not to grant Baker's Bay any more construction permits or duty-free equipment/material imports until the situation was rectified.
"Every other week they've got approvals in for new houses, but there are no permits - and no drawings have been done - for the community facilities. There's not even a start," Mr Albury complained.
He said the amenities, according to the Heads of Agreement, were supposed to have been completed by 2008 and before Baker's Bay moved on to Phase Two - the very construction stage it is now engaged in.
Referring to a meeting that took place between himself and Dr Marshall, and with Hope Town District Council representatives present, during a tour of Baker's Bay during February 2012, Mr Albury said he raised the community facilities issue then.
Baker's Bay executives replied that the recession, and continuing difficult economic climate, meant the project was "behind schedule".
"But Livingston said they could no longer hide behind that, because the project was moving along, these things should be done, and they would be done ASAP. But nothing's been done," Mr Albury added.
A copy of the 2005 Heads of Agreement for the Baker's Bay project, which has been seen by Tribune Business, commits the developers to construct a 3,500 square foot community centre on land leased from the Treasury.
This facility, projected to cost $600,000, is"for the benefit of residents of the Guana Cay settlement. It is supposed to contain space housing the police force, fire service, immigration and Customs, and a medical clinic.
Similarly, the Heads of Agreement also obligates Baker's Bay to construct a five-eight acre park costing $250,000. The park is supposed to include 500 feet of beach frontage, and include amenities such as golf cart parking, restrooms, a gazebo, observation area and dock.
Arguing that neither of these facilities had been built, Mr Albury cited several other alleged failures by Baker's Bay to meet its obligations.
These included the construction of accommodation on Great Guana Cay for police officers; ensuring excursions such as fishing and scuba diving were reserved exclusively for Bahamian entrepreneurs, and a $1 million solid waste disposal facility able to accommodate both Baker's Bay and resident requirements.
"They haven't lived up to their commitments at all with regard to the local community," Mr Albury told Tribune Business.
"What I told the Hope Town Council when we had the discussion was not to allow any more permits or shipments to come in duty-free until the matter is corrected, and they live up to their commitments.
"It would not cost them much - they would have to spend $300,000-$400,000 to get this construction done."
In particular, Mr Albury said the Royal Bahamas Police Force had informed him they could not station officers on Great Guana Cay full-time as there was no accommodation for them.
He added that a police presence was becoming increasingly vital, as "crime is starting to increase" - something Mr Albury attributed to an increasing influx of outsiders attracted to Great Guana Cay by the Baker's Bay project.
While emphasising that this was not linked to, or the fault of, Baker's Bay or Discovery Land Company, MR Albury said: "There was a spate of break-ins for a while, and general lawlessness - speeding cars and unlicensed vehicles.
"These things never happened before. We're getting people moving who we've never seen before, and there's no check on who's coming in."
Among the issues raised by the situation are whether the Government has the resources and expertise to properly monitor developments and ensure they live up to their commitments, and whether developers should be held to strict delivery timetables - especially given the post-2007 economic climate.
Mr Albury said he had raised the matter with both Edison Key, MP for South Abaco, and his opponent and now-PLP Senator Gary Sawyer, when both were on the campaign trail.
"I spoke to both of them personally," he added. "Both of them agreed, yes, that the community facilities should be done, but nobody is pushing in the right direction to get it done."
Mr Albury said both the PLP and FNM appeared to be engaging in a finger-pointing 'blame game' on the issue, the former accusing the Ingraham administration of failing to enforce the Heads of Agreement, and the latter saying the deal - agreed by the first Christie administration - did not enable them to do this.
Baker's Bay,though, made it clear it disagrees with Mr Albury's assertions.
Pointing out that the project was one of the few Bahamas-based developments to maintain progress throughout the recession, Dr Marshall told Tribune Business the project had to "prioritise" keeping several hundred Bahamians employed over the community facilities.
"Market forces, inclusive of the significant downturn in global economies, combined with the delayed execution of several key project components (execution of leases, permanent power sources, port designation, etc) impacted our development schedule ,necessitating adjustments in build-out of some project deliverables," Dr Marshall said.

"We have fulfilled our obligations under the Heads of Agreement and will continue to do so as we work with the new administration."
Explaining that the Heads of Agreement allowed Discovery Land Company to "defer" certain obligations, in the event of developments such as a major economic downturn, Dr Marshall said Baker's Bay had nevertheless continued its build-out.
"This required strategic decisions to be made, which included continuing to provide several hundred jobs to Bahamians to perform work on previously identified Phase II amenities, while deferring construction of the agreed upon community amenities.," Dr Marshall said.
"Baker's Bay will honour all of the terms of the Heads of Agreement, doing so in a strategic business manner to ensure jobs and commerce not only for today for our neighbours on Great Guana Cay and Abaco, but for generations to come."
Dr Marshall said the community centre and beach park were in the design stages, with construction timelines and their amenities being coordinated with the Hope Town District Council and Nassau.
"We anticipate completion of the beach park within the next 12 calendar months, and the completion of the community centre is contingent on port designation and government support of police, customs and other life safety personnel,"he added.
"Following the [February 2012] meeting and a realistic appraisal of our development commitments, we provided specific correspondence to the Hope Town District Council regarding a timeline for the Beach Park commitment, stating that: 'we expect to appraise the Council of progress on this initiative no later than 30 August, 2012'. It is important to note that there are commitments on both sides of the ledger, and we continue to work diligently together with local and national government to complete all commitments under the Heads of Agreement."
Dr Marshall also refuted Mr Albury's claims that the scuba diving, fishing and watersports concessions at Baker's Bay were not being made available to Bahamian entrepreneurs
Among the Bahamian companies involved in providing scuba services, he added, were Dive Abaco, Treasure Divers and Under and Over Abaco. The in-house scuba instructors and boats were Bahamian, with fishing outsourced to local bonefishing guides.
"In the meantime we have focused efforts on improving the community school, waste disposal, road improvements and many charitable ventures throughout Great Guana Cay and Abaco," Dr Marshall said.
"Specifically, Baker's Bay continues to receive and remove (at least 40 tonnes weekly) of residential garbage from the Great Guana Cay community. This arrangement, and at cost to Baker's Bay, remains unchanged from the past four plus years."